Jefferson County, Arkansas – December 11, 2019 – Two suspects involved in liquor store theft have been identified.
Previously, the Jefferson County Sheriff's Office received information concerning a theft at the Woodlands Fine Wine & Spirits located at 6715 Sheridan Road, Suite A in Pine Bluff, AR.
The white female suspect has been identified as Sherry M. Aud, a 58-year-old Jefferson County resident.  65-year-old Harold Wayne James of Jefferson County, Arkansas was also identified.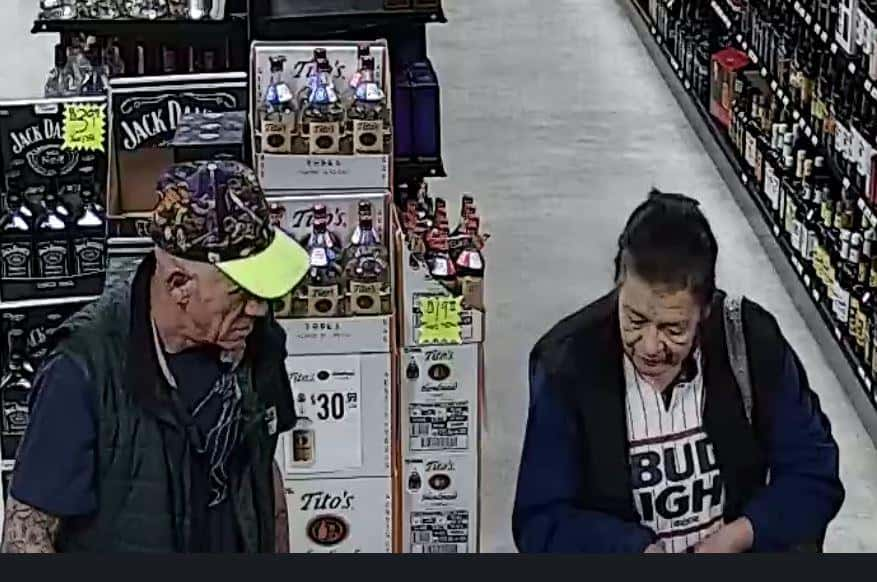 The theft remains under investigation at this time.
If you have any information in regard to the suspects, please contact the non-emergency number (870) 541-5300 24/7 or directly to the Criminal Investigation Division of the Jefferson County Sheriff's Office at (870) 541-5496. Information and tips can also be shared anonymously via email at [email protected], Facebook https://www.facebook.com/jcso1830, and Twitter @JeffCtySO. Caller's anonymity is guaranteed.
Jefferson County Sheriff's Office is requesting the community's help in identifying suspects in connection to a theft that occurred at Woodlands Fine Wine & Spirits.If you have any information in regard to their identity, please contact the non-emergency number (870) 541-5300 24/7 or directly to the Criminal Investigation Division of the Jefferson County Sheriff's Office at (870) 541-5496. Information and tips can also be shared anonymously via email at tips@jeffcoso.org, Facebook https://www.facebook.com/jcso1830, and Twitter @JeffCtySO. Caller's anonymity is guaranteed.

Posted by Jefferson County Sheriff's Office on Wednesday, 11 December 2019