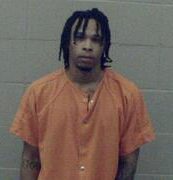 By Ray King
A 20-year-old Pine Bluff man arrested in connection with a murder on May 7 will be held without bond on multiple allegations.
Will Rogers was taken into custody by police after they served a search warrant at a house on West 34th Avenue following an investigation into the incident. Also taken into custody at that time was Kuron Brown, 23, who is currently on probation on theft and weapon charges.
During a court hearing Wednesday, Deputy Prosecutor Joe West said police were sent to MLK Park in the early morning hours in response to a reported shooting.
West said a search warrant was served at the home of Brown's mother.
Jefferson County District Judge Kim Bridgforth ruled prosecutors have probable cause to charge Rogers with one count of capital murder, 4 counts of first-degree battery, 3 counts of committing a terroristic act, one count of discharging a firearm from a vehicle, one count of possession of a prohibited weapon and one count of violation of the uniform machine gun act. He will be held without bond.
Because Brown is currently on probation, a $150,000 cash bond was set for him on one count of carrying a prohibited weapon and one count of violating the uniform machine gun act.
Attorney William Howard will represent Rogers and Brown said he would hire his own attorney.