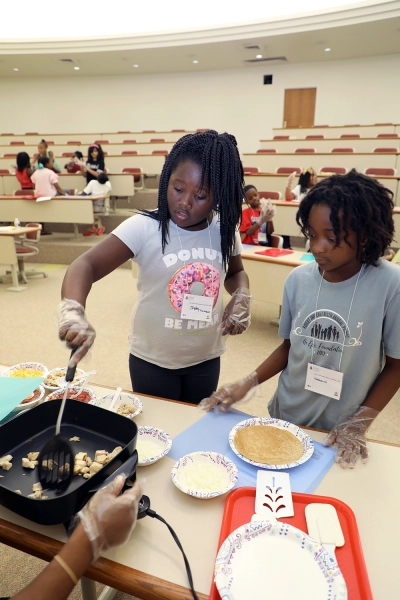 The University of Arkansas at Pine Bluff (UAPB) 1890 Cooperative Extension Program will host a free, fun-filled summer camp for children ages 7 to 11. Participants will learn how to cook and make healthy snacks. They will also learn about good nutrition, food safety and ways to be active.
Two sessions are being offered: June 21-23 and June 28-30. The camp will be held at the S.J. Parker 1890 Extension Complex auditorium located at 2300 L.A. "Prexy" Davis Drive on the UAPB campus. Each day, activities will start at 9:30 a.m. and end at 2 p.m.
"It is very important for children to learn about cooking and nutrition," Teresa Henson, Extension specialist-program outreach coordinator for UAPB, said. "This camp will provide local children the opportunity to try new and healthy foods. They will also be able to learn basic life skills related to cooking, as well as social skills by working as a group and communicating with each other in the kitchen."
Henson said the parents of participants in recent years praised the camp for its engaging activities that had children looking forward to the next day's activities.
"We received feedback that children love being on the UAPB campus and interacting with our Extension personnel," she said. "Learning the science behind making ice cream is always a big hit for the children. Some parents said their kids would come home from camp eager to teach their parents cooking tips and nutrition facts."
Limited slots are available for this year's cooking camp sessions. To register for the free camp, call Henson at (870) 575-7227 or Rachel M. Will at (870) 575-8530.