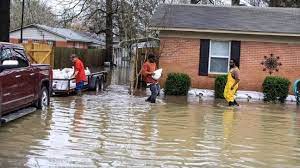 By Deseray McKinzy
Mayor Norma Strabala reported that Stuttgart is in a State of Emergency due to how high the water in the reservoir is which leaves nowhere for the water to go. The entire city is flooded in all three wards.
Residents were cautioned that if they have property damage, measure the water, take a photo and call 870-673-3537, the dedicated line City Hall has set up to leave your name and address for FEMA.
The Mayor also announced that Sandbags are available at the Stuttgart City lot.