The City of Warren and surrounding areas were hit pretty hard last night, June 19th by a severe thunder storm packing high winds, with heavy rain and lighting.
According to Mayor Pennington, city street crews were called out to remove a number of trees and clear streets.  Several areas of the city lost power. Three streets in the city currently have downed power lines. The streets are Hobbs, N. Bradley, and Boyd. All streets are passable.
By 8:00 AM much of the power was coming back on but there was no estimated time for the parts of the city without power to be restored.    According to the Mayor there has been no report of any major structural damage in the city and no injuries have been reported.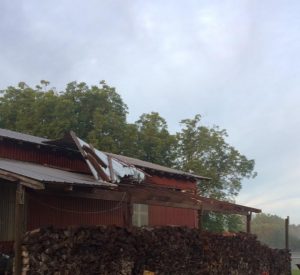 City Street Foreman Ricky Joe Davis told SRC that city street employees worked until around 4:00 AM making sure all streets were passable.  He said there were numerous trees and large limbs down in several sections of town.
SRC has been told there have been cases of trees falling on structures in the county. County Judge Klay McKinney said at least three houses have been damaged in the county. Outlaw Cemetery had damage due to a downed tree.  There is widespread extensive damage in the county such as trees, limbs, and downed power lines.  The Judge encourages people to be extremely careful because of the number of downed power lines.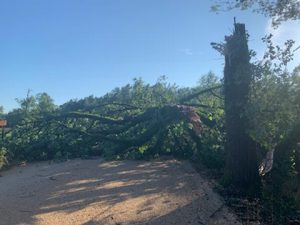 Additional information will be provided as soon as available.  Tornado warnings were issued last night for north Drew County and Desha County.