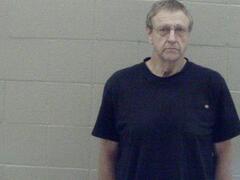 A Star City man was arrested after officers were dispatched to 430 W. 25th avenue in reference to the auto theft of a 20 FT. Ford Box truck from Uhaul.
Reading from a probable cause affidavit from Detective Keith Banks, Deputy Prosecutor Beth Carson stated that upon the arrival of the police an employee stated that Dennis Straugn 53, was contacted on September 14th to return the vehicle. The employee added that Straugn stated he had a flat tire and that he would return it when it was fixed but he never returned it.
Officers issued a be on the lookout for the vehicle and prepared a stolen auto report and the truck was valued at $20,000.
On Tuesday, September 27th at approximately 9 am officers were dispatched to a church on South Ohio Street in reference to the possible stolen Uhaul truck.
After the arrest, Straugn waived his rights and gave a statement acknowledging that Uhaul told him to return the vehicle and he did not. He said that "they had my credit card information and that was sufficient". He also stated that two other males had the Uhaul for a couple of days and he did not know that the wire was in the back of the truck.
Carson also reported that Straugn has no previous convictions.
Jefferson County District Judge Kim Bridgforth set a $15,000 secured bond for Straugn after ruling prosecutors have probable cause to charge him with theft by receiving scrap metal and theft of property. He was told to return to court on Nov. 4th.