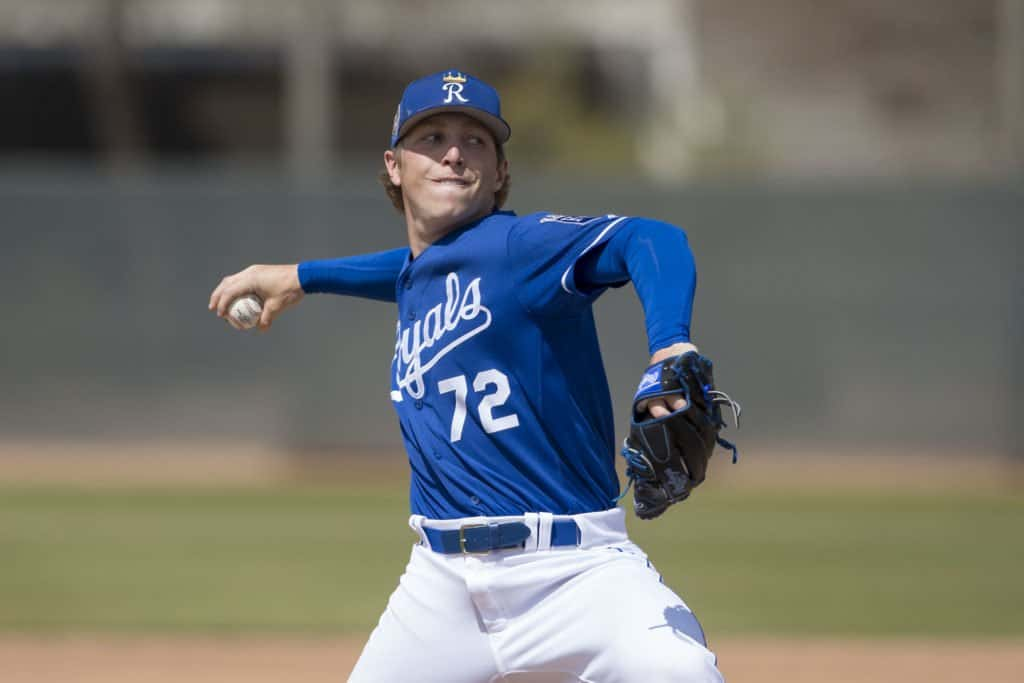 Former White Hall Bulldog and Arkansas State Pitcher Tyler Zuber made the 60-man player pool for the Kansas City Royals and is currently in Kansas City for summer camp as the Royals prepare for the 2020 season.
Zuber is one of 32 pitchers who made the 60-player pool, and said he is excited for the opportunity.
"I'm very thankful to be chosen for the 60-man, no doubt," said Zuber. "There's maybe around 300 players in each organization minor league and big league combined, so for me to be one of the 60 and to be able to keep playing, I'm very thankful for it. I'm ready to do all I can to help Kansas City win some ball games this year."
Zuber had a solid minor league season in 2018 starting with Single A Lexington Legends where he appeared in and recorded a save in nine of those. He was eventually promoted Advanced A-ball with the Wilmington Blue Rocks. He returned to Wilmington as a starter in 2019 where he amassed 11 saves in 21 games while posting a microscopic 1.23 ERA. That led to a promotion for Double A Northwest Arkansas where he tallied 38 strikeouts in 29.1 innings, 10 saves, his WHIP was 0.904, and he held a 1.79 ERA. He also performed well in the Dominican League.
Zuber felt like he had a chance to be called up in September of 2019. Despite that coming to fruition he kept working, and he believes that helped increase his stock with the Royals.
"I definitely think that last year helped to put me on the map a little bit as far as someone that they can see potentially in their future plans," said Zuber. "I think it helped my case going forward by 'Hey, he can pitch the upper levels and he can get guys out. Let's see what he can do in the Dominican.' I performed well down there, and I think that helped me out a lot in getting the big-league camp invite. Then pitching well there in front of the big-league staff helped put a stamp on 'Hey, we've got to get this guy in. I think he can help win some ball games."
When the Coronavirus pandemic hit baseball was one of many things that was shut down due to the severity of the pandemic. Zuber, like all other baseball players, had to work on his own to stay in shape.
"The toughest part was going from a routine every single day such as waking up, going to the field, eating some breakfast, looking over the schedule and going through your training room routine, then going out on the field for stretching then going through that day's practice or game," said Zuber. "You are constantly in some sort of routine, whereas when I got home it was like 'Wow'. I wake up whenever I want then I go lift, then it was 1 or 2 in the afternoon and I was like "Well, now what do I do?' It was very odd. Offseason 2.0 happened so I had to adapt and just try to do anything I could do to get the days to keep on rolling."
Zuber is currently in Kansas City and said his team will see their first live practice action on Friday.
"I'm in Kansas City right now and we were on the field (Thursday) for the third or fourth day," said Zuber. "(Friday) is day one. We have lives then, so we are getting into it quick. Ultimately everyone should be ready to rock and roll and get into it quick if they have been doing all their stuff over this three-month break. After that we will find out when our first inner squad game is, and I will just get my mind and my body ready to rock and roll on that."
Zuber said that every member of the team had to be tested for the Coronavirus, but they can go out and about if they exercise caution.
"We got tested the day that we got here, then we were quarantined for two days until they got the test results back," said Zuber. "They are not telling us to not be around anybody. We can go out and do stuff, but we must exercise caution when we do. We must wear our mask and make sure we are constantly washing our hands, try not to touch our face, keep distance, and whatnot. Just kind of following the safety protocols for COVID. We aren't necessarily blocked off from everybody, we just have to be careful."
He also spoke about his goals for the next few weeks now that he can work out as part of the 60-man roster.
"My goals right now are to perform the best I possibly can in spring training 2.0," said Zuber. "I want to put myself in the best situation to break with the team on opening day. Then worse case scenario if I don't break, just try to be one of the first ones to get called up and try to help out Kansas City as much as I can."