Slow Start Sinks Razorbacks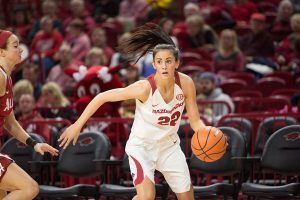 NASHVILLE, Tenn. – An unusually cold shooting night tripped up the University of Arkansas women's basketball team in a 61-54 loss to Pitt in game two of the Challenge in Music City in Nashville, Tennessee, on Saturday.
Arkansas (3-2) shot just 25.7% for the game going 19-for-74 from the floor including an 8-for-34 performance in the first 20 minutes. The off-shooting dug Arkansas a 25-18 deficit at the half that they couldn't erase.
Bailey Zimmerman sparked the Arkansas effort in the second half. She finished with the first double-double of the season scoring 11 points and grabbing 11 boards. Alexis Tolefree had a team-best 12 points with Chelsea Dungee also in double figures with 10 points for Arkansas.
Pitt had a significant height advantage and it showed on the boards in the first half as the Panthers owned the glass with a 28-16 rebounding edge in the first 20 minutes. The Panthers (3-4) finished the game out-rebounding Arkansas 48-40 with 42 points in the paint and 10 second chance points.
Arkansas took great care of the basketball committing just eight turnovers while forcing 22 miscues by Pitt. The Razorbacks turned those turnovers into 19 points in the game, 10 of which came in the second half.
Up Next
Wisconsin (6-0) rallied and held off an upset bid by Tennessee State, 58-53, Saturday evening. The Badgers are the only unbeaten team in Music Row evening bracket. On Sunday, TSU (0-6) will meet Pittsburgh (3-4) at 5 p.m., while Wisconsin battles Arkansas (3-2). If Pitt and Arkansas win Sunday, the tournament champion will be determined by the fewest points allowed in the tournament among Arkansas, Pitt and Wisconsin.
Notes
•Arkansas Starters: Alexis Tolefree, Malica Monk, Kiara Williams, Jailyn Mason, Chelsea Dungee.
•Pitt held a 28-16 advantage on the boards at the half. They finished out-rebounding Arkansas 48-40.
•Arkansas was 8-for-34 from the floor shooting just 23.5% in the first half. They finished shooting 25.7%.
•The 25-18 halftime deficit is just the second time this season the Razorbacks trailed at the break and it is the largest opponent halftime lead this season (ASU, 46-42).
BY Jeri Thorpe