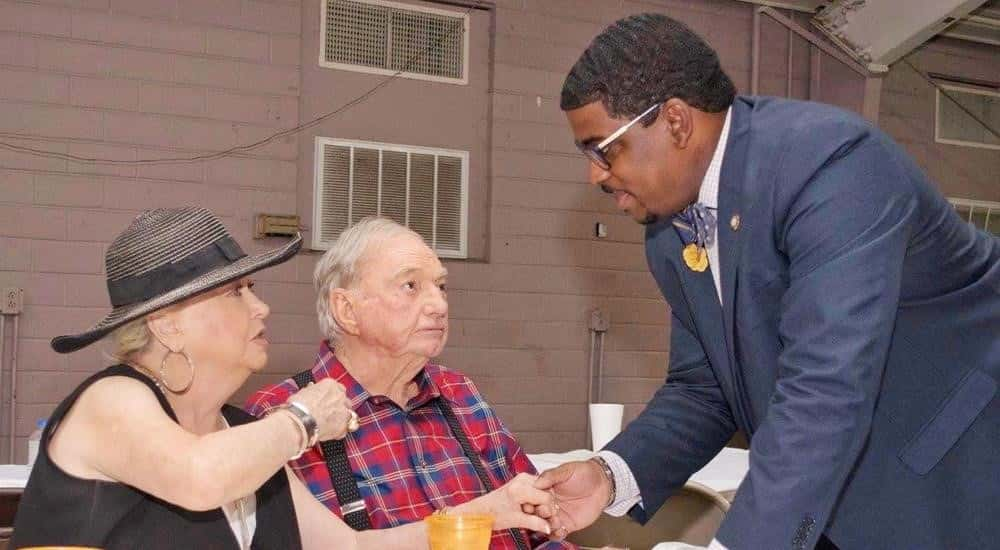 It is with heavy hearts that we share the news of the passing of Mrs. Wanda Bateman. We are deeply saddened by the loss of Mrs. Bateman, who passed last night. We extend our deepest sympathies to Deana Bateman, Alex Bateman, Drake Bateman, Joy Blankenship, and the entire Bateman Family as they mourn this great loss.
Mrs. Bateman was a very successful businesswoman, operating businesses all over Pine Bluff. She was a real estate mogul but above all, she was a true humanitarian. The invaluable advice and counsel she provided on the myriad of challenges facing our community was sincere. She was intimately involved in so many aspects of our community that it's hard to name them all.
Mrs. Bateman was recognized for her contributions by so many organizations to include the Jefferson County Sheriff's Office, Pine Bluff Police Department, THV Channel 11 News, Arkansas Food Bank, and countless others.
Mrs. Bateman was an extraordinary community leader, passionate giver, and dedicated servant of the citizens of Jefferson County and the State of Arkansas. She cared deeply about strengthening community programs including those created by the law enforcement community and services for low-income families. Because of Mrs. Bateman's commitment to Jefferson County, we are better as a community.
In 2012, Mrs. Bateman donated funds to the Jefferson County Sheriff's Office to help purchase Andor, a former JCSO K-9 officer. 
The passing of Mrs. Bateman is a significant loss for so many. I will miss not only her advice and gentle manner, but also her friendship and support. She was an extraordinary woman, and I shall miss her enormously. On behalf of the men and women of the Jefferson County Sheriff's Office, I want to again extend our deepest sympathies to the Bateman Family.
OBITUARY COURTESY OF RALPH ROBINSON AND SON FUNERAL DIRECTORS
Wanda McBurnett Bateman, one of Pine Bluff's most faithful and active citizens, passed away Friday, February 7, 2020. Her smiling face, hard work, and positive attitude about her community will be missed by many.
Born March 6, 1942 at Sheridan, she was the daughter of the late Arthur Lenson McBurnett and Juanita Nutt McBurnett. She moved to White Hall as a child and graduated from White Hall High School.
AS a young woman, she worked for several years at the Nation Bank of Commerce. Wanda began her long career in real estate as a realtor for B. R. Henry. She began her property management business with the Snooty Fox Apartment Complex, one of the first in White Hall., and owned many other properties. She also operated Margland II Bed and Breakfast Inn for 35 years.
As an active member of Trinity Episcopal Church for many years, she served on the Vestry numerous times and as Senior Warden for one term and Junior Warden twice. She also organized and provided many beautiful receptions at Trinity.
Wanda's public achievements were many. From serving on local boards for organizations such as Neighbor to Neighbor, CASA, and the American Cancer Society, to the annual Summer Cereal Drive sponsored by THV11 and the Arkansas Foodbank. For several years, she was the number one cereal collector and fundraiser, with several larger organizations in a distant second place.
Along with her parents, her brother, Billy Dean McBurnett predeceased her.
Survivors include her daughter, Deana Bateman Bailey; two grandchildren, Alex Bailey and Drake Bailey (who lovingly referred to their grandmother as "Missy"; and her life partner of 40 years, Ed Thompson.
Wanda's memorial service will be held Wednesday, February 12, 2020, 1:00 p.m. at Trinity Episcopal Church with the Rev. C. B. Baker officiating. A reception will follow in the parish hall. Arrangements are by Ralph Robinson and Son.
Memorials may be made to Trinity Episcopal Church, 703 West 3rd Avenue, Pine Bluff, AR 71601; or to the Jefferson County Humane Society, Post Office Box 2233, Pine Bluff, AR 71613.