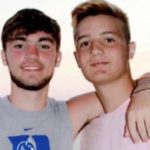 Two Sheridan High School seniors died in an automobile accident Tuesday afternoon about a mile inside of Grant county from the Jefferson County line.
Those two students have been identified as Carson Fleming and Hunter Kesterson by Memorial Gardens Funeral home in Sheridan.
The students were driving a 2004 Ford west on Hwy. 270 around 1:12 p.m. in Grant County. The Ford then traveled off the road hitting a culvert, according to state police. The report then states that the vehicle then traveled back on the road, crossed the center line and struck the front of a 2014 Kenworth semi-truck.
Both the Fleming and Kesterson were ejected, according to police. Both were pronounced dead at the scene by Grant County coroner Michael Walton around 1:50 p.m.
State police say conditions were rainy and wet at the time of the crash.
The Sheridan School District responded to the crash saying, "The Sheridan School District is saddened by the tragic news that two Sheridan High School seniors died in a car accident this evening. Our thoughts and prayers are with these families and their friends at this incredibly difficult time."
Counselors were made available Tuesday morning at the Sheridan high school cafeteria to assist any students and staff who need help coping with this tragedy.