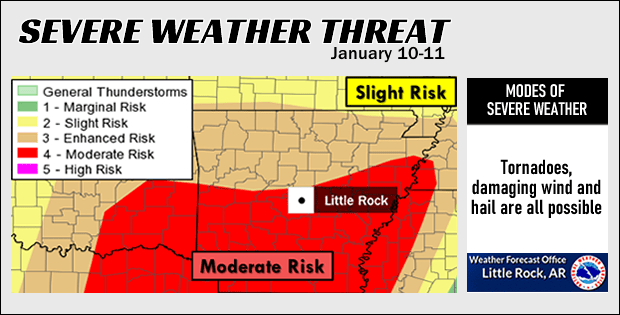 An outbreak of severe weather, including widespread wind damage and tornadoes, is expected Friday night and the predawn hours Saturday across Arkansas. The risk in Southeast Arkansas has been upgraded from enhanced to moderate.
"This is serious," according to the The National Weather Service in Little Rock.
Thunderstorms will become widespread as a storm system arrives from the southern Plains. A large line of storms is expected, and this will sweep through the region tonight. Torrential downpours will noted with the storms. The forecast calls for two to more than three inches of rain in much of the watch area. Much of Arkansas, including Southeast Arkansas, is currently under a flash flood watch.
From Meteorologist Paul the Weather Guru:
Severe thunderstorms capable of producing strong, damaging winds in excess of 80mph. Possible tornadoes with a few possibly being strong/violent and long track.
Large hail 3″ or larger at initiation near Dallas possible.
When:
Threat for Oklahoma and E 1/2 Texas will begin after 1 p.m.
Threat for far East Texas and East Oklahoma after 8 p.m.
Threat for much of Arkansas and Lousiana after 10 p.m. and mainly overnight after midnight
Why:
It is terribly complicated to explain…but in a nutshell:
-90+mph winds will exist at 5000FT across Arkansas and Louisiana tonight. This wind will be from the South and SSW. Winds at 10000FT will be out of the Southwest at 90mph+. Winds at 18000FT will be out of the Southwest at 90mph+. Winds at the surface will be out of the South at 15mph+.
There is a very large amount of speed shear in the atmosphere between the surface and 18000FT. Add in a rotational element…South surface winds to Southwest aloft…and at high speeds…you have a recipe for strong low level rotation. Add in very high low level humidity, and the recipe is perfect for tornadic activity to occur in any storms out on their own.
With regard to winds in excess of 80mph. Remember yesterday evenings post? If not go take a look. Winds aloft at all levels down to just above ground level are 90mph+. That will get mixed down to the surface. 85% of the 5000FT winds is in excess of 80mph. That is not good folks.
Storm speed:
The line will likely move at 30 to 40mph initially before accelerating as cold pooling on the backside/downdrafts begin to give it an extra shove.
IMPORTANT–individual storms will move in excess of 60-70mph to the Northeast along the line.
Areas most at risk for tornadic activity:
S 1/3 of Arkansas to NW 1/3 to 1/2 of Louisiana and far East Texas
Areas most at risk for winds in excess of 80mph:
Eastern 2/3 of Arkansas, much of Louisiana
Things to do:
-Tie down things outside TODAY
-Check batteries in your devices you use
-Follow TRUSTED sources
-Have a game plan for severe weather and let a friend know where you will go if you need to take shelter
-Stay calm so you can think clearly if the need arises to take cover
-REDUNDANCY-Have 2 or 3 ways to get watches and warnings. That way if you lose 1 source you have a backup. And a backup to the backup.
SPC wording:
SPC did use the term "outbreak" this morning. This outbreak of sorts is in relation to high winds. High wind reports should far outnumber tornado reports.
With regard to long track tornadoes mentioned earlier….they will be long track by virtue of the fact the storms will be moving so fast. It will not take long at all to cover ground quickly.
IF YOU ARE UNDER A WARNING–SEEK SHELTER IMMEDIATELY–FAST MOVING STORMS WILL ARRIVE QUICKLY
CLICK HERE FOR PINE BLUFF WEATHER CONDITIONS