Schultz Wins 3-Meter, Amer Sets Career-Best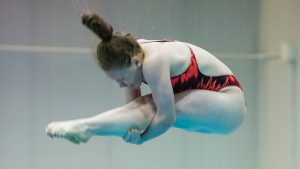 Athens, Ga.– The Arkansas diving team completed day one at the Georgia Diving Invite, with Maha Amer setting a career-best score and Brooke Schultz earning a first-place finish in the 3-meter.
In the preliminary round, Amer, Schultz, and Estilla Mosena all placed in the Top-25. Mosena finished 21st with a score of 240.05. Schultz and Amer took the top two spots, respectively, with Schultz earning a 346.95 and Amer recording a career-best 325.70.
In the finals, Amer finished in seventh place with a 296.45 while Schultz finished in first with a 365.05.
Competition at Georgia will continue tomorrow with the 1-meter springboard.
For more information on Arkansas Swimming and Diving, follow @RazorbackSD on Twitter.