Schultz Finishes at Winter Nationals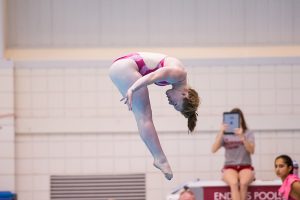 ATLANTA– Brooke Schultz earned a fifth-place finish in the 3-meter at the USA Diving Winter Nationals Friday afternoon.
This was the sophomore's final event of the competition, as she took the title in the 1-meter and 3-meter synchro with partner Murphy Bromberg earlier this week.
In the preliminary round, Schultz finished seventh and advanced to the finals with a score of 261.30. She placed fifth in the finals with a score of 536.25.
The Hogs will return to the pool in the new year, with the divers competing at the Georgia Diving Invite.