School-Record Nine Razorbacks Named All-SEC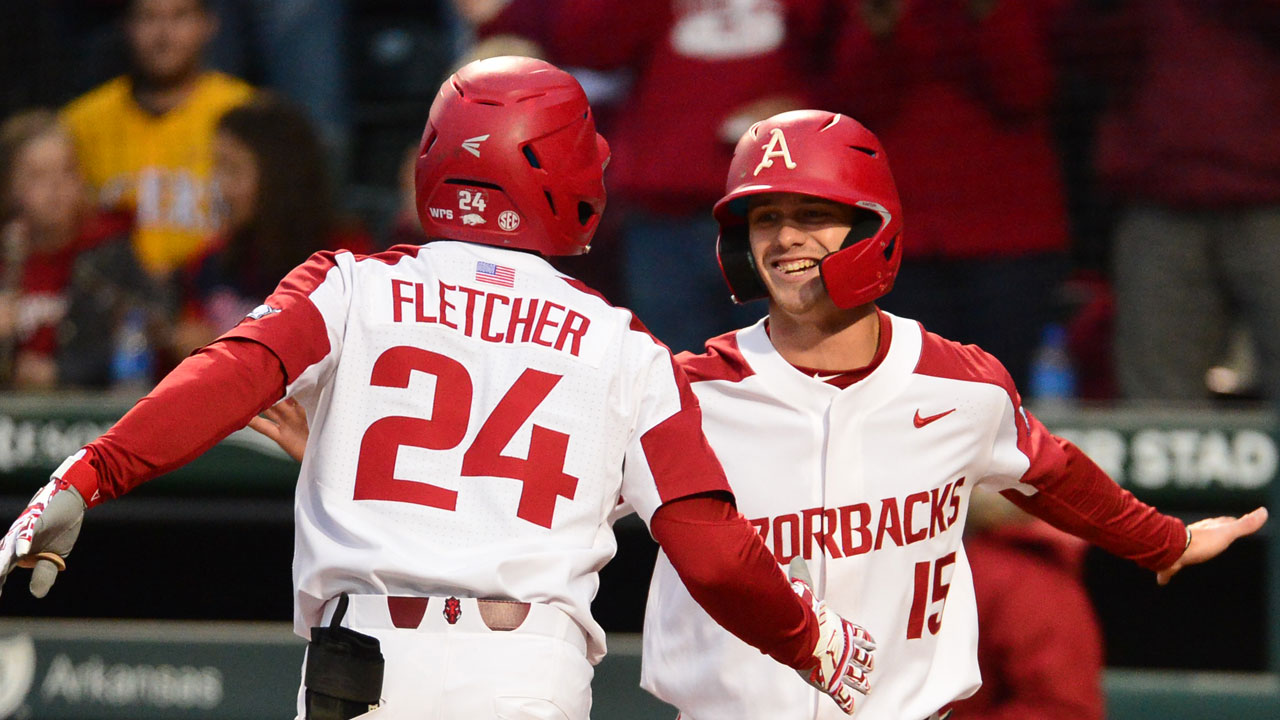 HOOVER, Ala. — With the 2019 SEC Tournament just one day away, the year-end All-SEC teams were released Monday afternoon after being voted on by the league coaches and they feature a school-record nine Razorbacks on either the second team, all-freshman team, or all-defensive team.
Six of the 12 All-SEC Second Team selections come from Arkansas as Trevor Ezell, Casey Martin, Dominic Fletcher, Heston Kjerstad, Matt Goodheart and Matt Cronin all made the list at their respective positions. On the SEC All-Freshman Team, Christian Franklin, Connor Noland and Patrick Wicklander all earned their first all-conference honors of their career. Finally, Fletcher and Ezell both were named to the SEC All-Defense Team.
The 11 selections (nine players) leads all SEC teams and tops last year's previous program record of nine selections. Arkansas was also the only school with multiple players named to the all-freshman team and it was the third year in school history the Hogs have had two or more freshmen named all-conference.
1B Trevor Ezell | All-SEC Second Team, SEC All-Defense
Played all 55 games with 50 starts at first base, his first year ever playing the position.
Hit .314 with 65 hits, 29 for extra-bases, including eight home runs and 41 RBIs.
It's the fourth year of his career to hit .300 or higher when playing 20 or more games.
The eight home runs are a career-best for a single season.
Hit .256 in conference play with more than half (24) of his season's RBIs coming against SEC opponents.
Only made two errors all season in 442 chances (.995).
Finished fourth in the SEC in runs scored (63), tied for fifth in doubles (19), tied for third in walks (45), 10th in on-base percentage (.436), and tied for seventh in stolen bases (17).
The 17 stolen bases are the most by a Razorback since Andrew Benintendi stole 24 in 2015.
Has 316 career hits over five years, which ranks fifth in the nation among all active players.
Has started every game of his career (226-consecutive starts).
SS Casey Martin | All-SEC Second Team
Hit .311 through 55 games with 74 hits, 37 for extra-bases, and is slugging a team-best .605.
Hit .295 in conference games with nine homers and 22 RBIs.
Currently leads the team with 15 home runs, two more than his total last year. Also ranks
Ranks in a tie for sixth in the league in runs scored (58), tied for fifth in doubles (19), tied for second in total bases (144), fifth in slugging (.605), tied for seventh in hits (74), 10th in RBIs (53) and tied for third in home runs (15).
Needs two more homers to crack into the Arkansas all-time top-10 for home runs in a single season and needs five more to crack into the career top-10.
Has three inside-the-park home runs this year (Louisiana Tech, Grambling, Kentucky).
Tied for the team lead with 23 multi-hit games and seven games with three hits or more. Also has 15 multi-RBI games and seven with three or more.
In just league games, has top-10 totals in home runs (9), triples (2), total bases (74) and slugging (.574).
Second-straight All-SEC Second Team selection.
CF Dominic Fletcher | All-SEC Second Team, SEC All-Defense
Hit .320 for the year overall, third-highest average on the team. Hit .305 in conference play, his second-straight year batting .300 or higher in SEC games.
Hit 10 home runs with 52 RBIs. It's his third-straight year with 10 or more home runs and first year with 50+ RBIs.
Leading the SEC with 22 doubles, six away from tying the single-season school record.
His 27 RBIs were a personal best in conference play and tied for eighth in the SEC.
Tied for the team-lead with 23 multi-hit games and 15 multi-RBI games.
Top-10 totals in the SEC in doubles (22) and total bases (124).
Only made one error in centerfield in 138 chances (.993).
Second-straight year on SEC All-Defense Team and second career All-SEC selection (Freshman Team – 2017).
Started all 55 games in centerfield.
RF Heston Kjerstad | All-SEC Second Team
Hit .336 for the year in 54 games with 14 home runs and 44 RBIs. The batting average is the second highest on the team and he hit .319 in conference play.
Hit 24 of his team-leading 75 hits for extra-bases (10 doubles, 1 triple, 14 home runs).
Has now hit .312 over his two-year career in 59 conference games.
Tied for fifth in the SEC in total bases (129), 12th in slugging (.578), sixth in hits (75) and tied for fifth in home runs (15).
Hit eight home runs in the month of April and drove in a team-best 25 RBIs (18 games).
Matched his home run total from a year ago (14) and did it in 15 less games.
Second-straight year on the All-SEC Second Team.
Has 21 multi-hit games with 10 games of three hits or more. Also notched 11 games with multi-RBIs, including three games with four or more (2 with 5+ RBIs).
LF Christian Franklin | SEC All-Freshman
Played in 54 of 55 games, starting 48. Starting all 30 conference games in left field.
Hit .281 overall in his first collegiate season with 48 hits, six home runs and 33 RBIs.
Hit .262 in conference play with three home runs and 12 RBIs.
Has eight multi-hit games in conference play and 14 overall.
Notched nine multi-RBI games with six consisting of three or more RBIs.
DH Matt Goodheart | All-SEC Second Team
Played in 47 games with 40 starts at either DH or first base and led the team with a .352 batting average.
Also led the team with a .369 batting average in conference play totaling 11 doubles, two triples, one home run and driving in 20 RBIs.
Top 10 totals in the SEC in overall batting average (.352) and on-base percentage (.455).
Finished fourth in the SEC with a .369 average in conference games only and tied for fourth with 11 doubles. Also had the fourth highest on-base percentage (.463).
Hit .309 in the final month, with five extra-base hits and 16 RBIs.
RHP Connor Noland | SEC All-Freshman
Made 16 appearances in his first collegiate season with 15 starts; Second-most appearances among all freshmen pitchers on the team.
Generated a 3.86 ERA over 63 innings with 49 strikeouts, 27 earned runs and 12 walks.
Struck out 49 over 63 innings with only 12 walks.
Made his first collegiate start on Opening Weekend against Eastern Illinois (Feb.16), striking out seven and working 4.2 innings.
Has pitched 4.2 innings in an outing five times, but has gone 7+ in two of his last five starts.
Hasn't walked more than two batters in an outing this season.
Struck out a season-high 10 against No. 18 Tennessee (April 28).
Named SEC Co-Freshman of the Week after going a season-long 7.2 scoreless innings against No. 2 Mississippi State with five strikeouts.
Notched his fourth scoreless outing two weeks ago against No. 15 LSU, giving up four hits over 5.1 innings and striking out three.
His 15 starts ties for the most of any pitcher in the SEC.
His 12 walks allowed ties for the lowest among any pitcher in the SEC. Only allowed seven walks in SEC play.
RHP Patrick Wicklander | SEC All-Freshman
Went 5-2 as a first-year starter with a 4.69 ERA in 55.2 innings.
Made 12 starts in 19 appearances; More appearances than any other freshman pitcher on the team.
Has thrown three or more innings in seven of last eight outings.
Struck out six or more in four of his six conference starts (at Auburn, vs. Miss. State, vs. Tennessee, at Kentucky)
Struck out five or more in last six of last eight starts.
Picked up first collegiate win vs. Charlotte (March 6) after throwing 5.0 scoreless innings with only one hit allowed.
Six of 12 starts came against non-conference opponents.
Has given up three or less hits in eight of last 11 outings.
Won in consecutive starts for the first time since March 6 vs. Charlotte and March 12 vs. Western Illinois after working 5+ IP against No. 18 Tennessee (April 27) and at Kentucky (May 5).
His 77 strikeouts were the 15th-most among all pitchers in the league and second among all freshmen pitchers.
LHP Matt Cronin | All-SEC Second Team
Has a 2.25 ERA in 24 innings with only six earned runs allowed and 10 saves.
Six of his 10 saves have come against SEC opponents, which ties for the third most.
Has pitched at least one inning in 47 of his last 48 outings dating back to 2017.
Thrown at least 1.1 innings in six of last 10 appearances.
Began the year on a 11-inning scoreless streak (Feb. 17-March 26), saving six games.
Earned a save on consecutive days against Missouri (March 15-16). Second instance this year (USC).
Just five hits allowed in his last 6.1 innings (5 outings)
One run or less allowed in last seven outings.
Earned fifth win of career in first appearance of 2019 (vs. Eastern Illinois).
Fourth in SEC in saves (10).
Fifth in SEC in games finished (16).
Ranks 2nd on Arkansas career chart with 25 saves (33 – Philip Stidham – 1989-91).
For more information on Razorback Baseball, follow @RazorbackBSB on Twitter.
2019 SEC Baseball Awards
Player of the Year: JJ Bleday, Vanderbilt
Pitcher of the Year: Ethan Small, Mississippi State
Freshman of the Year: JT Ginn, Mississippi State
Coach of the Year: Tim Corbin, Vanderbilt
Scholar-Athlete of the Year: Garrett Stallings, Tennessee
First-Team All-SEC
C: Philip Clarke, Vanderbilt
1B: Tanner Allen, Mississippi State
2B: Justin Foscue, Mississippi State
3B: Austin Martin, Vanderbilt
SS: Grae Kessinger, Ole Miss
OF: JJ Bleday, Vanderbilt
OF: Jake Mangum, Mississippi State
OF: Alerick Soularie, Tennessee
DH/UT: Nelson Maldonado, Florida
SP: Ethan Small, Mississippi State
SP: Emerson Hancock, Georgia
RP: Tyler Brown, Vanderbilt
Second-Team All-SEC Team
C: Cooper Johnson, Ole Miss
1B: Trevor Ezell, Arkansas
2B: LJ Talley, Georgia
3B: Aaron Schunk, Georgia
SS: Casey Martin, Arkansas
OF: Dominic Fletcher, Arkansas
OF: Heston Kjerstad, Arkansas
OF: Antoine Duplantis, LSU
DH/UT: Matt Goodheart, Arkansas
SP: TJ Sikkema, Missouri
SP: Zack Thompson, Kentucky
RP: Matt Cronin, Arkansas
Freshman All-SEC Team
JT Ginn, SP, Mississippi State
Kumar Rocker, SP, Vanderbilt
Doug Nikhazy, SP, Ole Miss
Cole Henry, SP, LSU
Cole Wilcox, SP, Georgia
Patrick Wicklander, SP, Arkansas
Connor Noland, SP, Arkansas
Ryan Bliss, 2B, Auburn
Christian Franklin, OF, Arkansas
Joseph Menefee, RP, Texas A&M
Kendrick Calilao, 1B, Florida
Brett Kerry, RP, South Carolina
SEC All-Defensive Team
C: Cooper Johnson, Ole Miss
1B: Trevor Ezell, Arkansas*
1B: Julian Infante, Vanderbilt*
2B: LJ Talley, Georgia
3B: Austin Martin, Vanderbilt
SS: Cam Shepherd, Georgia
OF: Dominic Fletcher, Arkansas
OF: Jake Mangum, Mississippi State
OF: Zach Watson, LSU
P: Garrett Stallings, Tennessee
*Tie (Ties are not broken)
by John Thomas