Sanders helps No. 16 Arkansas rocket past South Carolina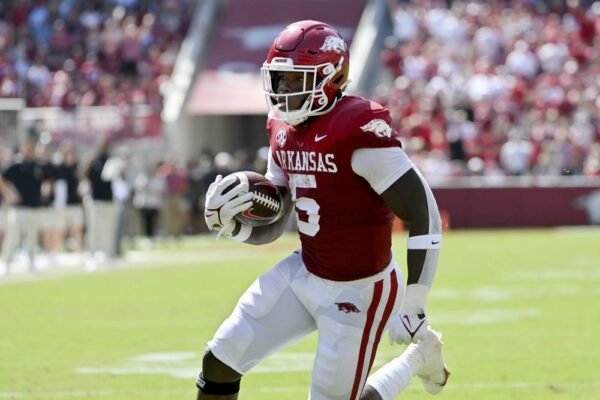 FAYETTEVILLE, Ark. (AP) — Darren McFadden and Felix Jones make for some serious company. Rocket Sanders can now say he's there with those all-time Arkansas running backs.
The Razorbacks' sophomore running back ran for a career-high 156 yards and two touchdowns in helping the No. 16 Razorbacks beat South Carolina 44-30 on Saturday.
Sanders joined McFadden, twice a Heisman Trophy finalist, and Jones, the player with the sixth-most yards rushing in school history, as the only three Arkansas players to run for 150 yards and two scores against the Gamecocks.
"Um, that's good," Sanders said after the game. He half-chuckled his next sentence.
"Of course I want to be better than those guys."
Sanders ran for 578 yards and five touchdowns in his first season last year. With returning starter Dominique Johnson still sidelined recovering from a knee injury suffered in the Outback Bowl, Sanders has taken nearly all of the first-team reps. The result has been a 2-0 start for his team and him becoming the first Razorbacks player since 2019 with back-to-back 100-yard games.
Sanders scored the first two touchdowns of the game as Arkansas (2-0, 1-0 Southeastern Conference) found the end zone on each of its first three possessions against South Carolina and opened a 21-3 lead. The Gamecocks (1-1, 0-1) responded with two straight scores at the end of the first half and the beginning of the second to pull within 21-16.