A mother can safely surrender her newborn inside, shut the door and walk away with no questions asked.
Mothers in crisis will soon have a place to anonymously surrender their newborn child in Arkansas. Benton City Council members has approved the installation of the state's first Safe Haven Baby Box. Monica Kelsey says mother's abandoning their newborn children in unsafe locations is happening too frequently.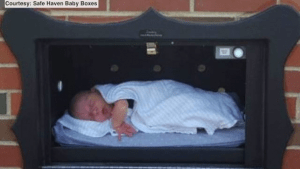 "Over the past 20 years, we've found 2,000 babies in dumpsters in trash cans alongside the road and woods," Kelsey said. Kelsey was adopted into a loving family, and her experience inspired her to create the Safe Haven Baby Box. "My birth mom was 17, brutally attacked, raped and left on the side of the road," she said. "She then abandoned her child two hours after that child was born, and that child was me."
The box in Benton is set to be installed on the wall of fire station three. The box is an extension of the Safe Haven Law and will be paid for by donations and fundraisers. Before the Safe Heaven Law, new mothers in Arkansas could only surrender children at hospitals and police stations. The box is expected to be installed within the next few weeks.