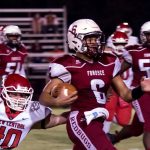 Round three of the 2019 Arkansas high school football playoffs has now come and gone, and only one Deltaplex area team remains alive.
The Fordyce Redbugs are the only Deltaplex area team remaining in the playoffs following a 24-20 victory over Hazen. The Redbugs advance to the Class 2A semifinal round against Salem.
The remainder of the scores from Deltaplex teams are below.
Little Rock Christian 42, White Hall 14
Harding Academy 62, McGehee 36
Camden Harmony Grove 30, Rison 16
COMPLETE PLAYOFF PICTURE FOR ALL CLASSIFICATIONS
CLASS 7A SCORES AND TITLE GAME
Bryant 35, Bentonville West 0
North Little Rock 42, Bentonville 24
CLASS 7A STATE TITLE GAME
Bryant vs North Little Rock – Friday, December 6, – 7:00 PM
CLASS 6A SCORES AND TITLE GAME
Benton 63, West Memphis 35
Searcy 50, Greenwood 38
CLASS 6A STATE TITLE GAME
Benton vs Searcy – Saturday, December 7 – 6:30PM
CLASS 5A SCORES AND TITLE GAME
Little Rock Christian 42, White Hall 14
Pulaski Academy 68, Morrilton 41
CLASS 5A STATE TITLE GAME
Little Rock Christian vs Pulaski Academy – Saturday, December 7 – 12:00PM
CLASS 4A SCORES AND SEMIFINAL GAMES
Crossett 28, Arkadelphia 27
Shiloh Christian 49, Nashville 27
Ozark 21, Pea Ridge 14
Robinson 20, Jonesboro Westside 7
CLASS 4A SEMIFINAL GAMES
Crossett vs Shiloh Christian
Robinson vs Ozark
CLASS 3A SCORES AND SEMIFINAL GAMES
Harding Academy 62, McGehee 36
Prescott 49, Hoxie 19
Osceola 40, Melbourne 22
Camden Harmony Grove 30, Rison 16
CLASS 3A SEMIFINAL GAMES
Prescott vs Harding Academy
Osceola vs Camden Harmony Grove
CLASS 2A SCORES AND SEMIFINAL GAMES
Junction City 46, Des Arc 14
Gurdon 34, Magnet Cove 17
Salem 38, Carlisle 22
Fordyce 24, Hazen 20
CLASS 2A SEMIFINAL GAMES
Junction City vs Gurdon
Fordyce vs Salem