By Ray King
A reported armed disturbance at a house in the Dollarway area Wednesday resulted in the arrest of a Pine Bluff man who is accused of threatening to kill a woman.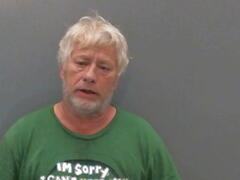 Brian Street, 52, was taken into custody after officers responded to a house in the 6100 block of Mosley Street, Detective Sgt. Steven Rucker said in a probable cause affidavit presented in district court Friday.
Reading from that affidavit, Deputy Prosecutor Carol Billings said officers met with a female who said she was the owner of the property. Street was also at the scene and when officers asked who was armed, Street said he was and said the knife was on the hood of a truck.
The female said Street called about moving furniture and when he arrived he was angry so she locked the door. She said Street busted a window in the door with a knife and came into the bedroom where he held the knife over his head and said he was going to stab her.
Rucker reported that when Street was questioned, he admitted having a knife and busting a window in the door but denied threatening to stab or kill the woman.
Pine Bluff District Judge John Kearney set a $5,000 bond for Street after ruling prosecutors have probable cause to charge him with terroristic threatening. The Public Defender's Office was appointed to represent Street and he was ordered to have no contact with the alleged victim until the case is settled.