Razorbacks To Host 12 Home Dates As Part Of Spring Campaign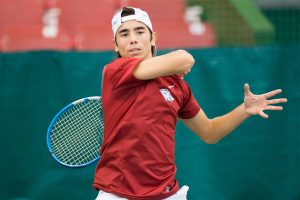 FAYETTEVILLE, Ark. – The Arkansas men's tennis team announced its 2019 spring schedule Friday, a slate that includes 14 opponents that finished last season ranked in the top 25.
The Razorbacks' home schedule will feature 12 home dates, including non-conference matchups against Big 12 foes of Texas and Oklahoma, who finished ranked 12th and 16th respectively last season. SMU and Central Florida make return trips to Fayetteville next spring after hosting Arkansas in 2018.
Arkansas' opening week includes a doubleheader against Mercer (Jan. 16), and Saturday matchups against UCF and St. Louis on Jan. 19. The Razorbacks' first road trip will take them to Stillwater, Oklahoma to face the Cowboys on Jan. 21.
Before a five match homestead from Feb. 3-10, Arkansas will travel to Columbus, Ohio to face Cornell (Jan. 26) and either VCU or Ohio State (Jan. 27). Arkansas will return home to host five matches in eight days with matchups against Tulsa (Feb. 3), Nebraska-Omaha (Feb. 3), SMU (Feb. 8), Texas (Feb. 10), and Illinois State (Feb. 10) on tap.
Prior to beginning Southeastern Conference play on March 1, the Razorbacks will host Oklahoma at home on Feb. 27. South Carolina (March 1) and Florida (March 3) will travel to Fayetteville the first weekend in March to mark the start of SEC play. Arkansas' final non-conference matchup will be in Waco, Texas March 7 against Baylor.
In addition to hosting South Carolina and Florida, Arkansas will host SEC foes Vanderbilt (March 14), Kentucky (March 16), Mississippi State (March 30), and Auburn (April 13).
The Razorbacks have two SEC road trips that include three-straight conference matches. On March 22, Arkansas will travel to Texas A&M before traveling to face LSU (March 24) and Ole Miss (March 28). After hosting Mississippi State on March 30, the Razorbacks will go on the road to play Tennessee (April 5), Georgia (April 7) and Alabama (April 11) before ending the regular season at home against Auburn on April 13.
For more information on Arkansas men's tennis, including in-match updates, follow @RazorbackMTEN on twitter.
BY Devan Lawson