Razorbacks Sweep Gators; Crowned SEC Champs!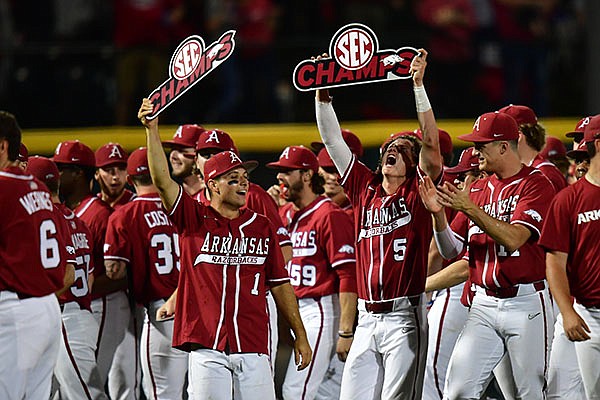 The topped ranked Arkansas Razorbacks are the outright SEC champions following their sweep of #9 Florida over the weekend at Baum-Walker Stadium.
The Diamond Hogs clinched at least a share of the SEC west title with a 6-1 Thursday night victory over the Gators in the Hogs final regular season series. A large crowd cheered on starting pitcher Patrick Wicklander as he dominated on the hill in the series opener, striking out a career best 11, allowing 3 hits, a walk, and only 1 run in 6 innings of work. Cayden Wallace led the way at the plate in the series opener, going 3-for-4 including 2 homeruns, 4 RBI's, and 2 runs scored.
Arkansas would take the momentum into Friday's match-up, clinching the SEC title outright on a walk-off RBI double by Charlie Welch in the bottom of the ninth. Welch's pinch-hit double scored Casey Opitz and led the Razorbacks to their first SEC Championship since 2004. The Hogs come back 4-3 game two win also secured the first outright title since 1999.
Brady Slavens led the way in the regular season and series finale, blasting two homeruns in the fourth and seventh innings to lead the Hogs to a 9-3 series sweeping win over the Gators. Slavens accounted for 5 RBI's and launched his 12th and 13th bombs of the season.
Arkansas (42-10 overall/22-8 SEC) will possess the overall #1 seed in the upcoming SEC Baseball Tournament starting Wednesday, May 26th, in Hoover, Alabama. The Hogs will play the winner of #8 Georgia vs. #9 LSU at 4:30 p.m. on the SEC Network.