Razorbacks Run Win Streak To Six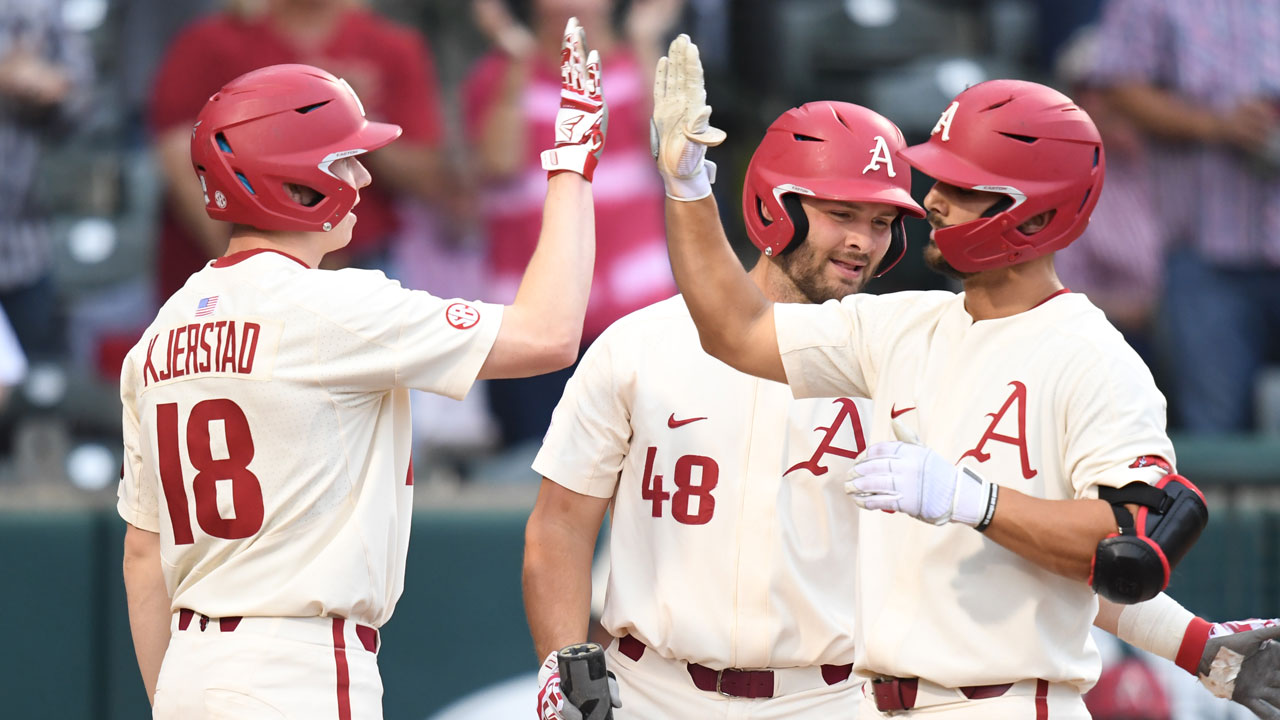 FAYETTEVILLE, Ark. – The sixth-ranked Arkansas baseball team blasted Northwestern State Tuesday night, 19-2 in eight innings, behind a 19-hit night and a season-high five home runs to run its win streak to six games.
A heavy downpour moved across the stadium in the ninth inning after Jacob Burton recorded one out. Once the rain moved out, the field was deemed unplayable and the game was called after eight innings.
Arkansas (31-10) got crooked numbers in the second, third, fourth, seventh and eighth innings as the 19 hits were the second-most hits in a game this year and the fifth time in the last six games it has totaled 10 or more. The five home runs hit were also the most in a single game since hitting five against No. 4 Kentucky on March 17, 2018.
The 19 runs were also the most in a game by Arkansas this season and the most since scoring 32 against Bucknell on Feb. 17, 2018.
Dominic Fletcher, Heston Kjerstad, Jack Kenley, Jordan McFarland and Curtis Washington, Jr. all went deep in Tuesday's game. For McFarland and Washington, it was their first home runs of the year and each Razorback that went deep had at least two hits in the game.
Kjerstad, Washington and catcher Zack Plunkett all led the team with three hits each. Kjerstad and Washington both fell a triple short of the cycle, while all three of Plunkett's hits went for doubles, which was easily a career-high. Washington was 3-for-6 in the game, a career-high. Both Kjerstad and Plunkett were 3-for-4 in the game.
Ramage Rights Ship With Career-Long Outing
After struggling over his last three outings with 12 earned runs allowed, sophomore right-hander Kole Ramage got back on track Tuesday with a career-long five-inning performance and only one run allowed. Ramage scattered five hits and struck out five with one walk on 72 pitches. He earned his seventh win of the year, moving him into a tie for the team lead with redshirt junior Isaiah Campbell.
Washington Coming Up Big When Called
Tuesday's three-hit night wasn't an anomaly for freshman Curtis Washington, Jr. The West Memphis, Arkansas native has been one of Arkansas' first hitters off the bench this year as he's made six pinch-hit appearances and four starts in the outfield. Of his 10 hits, all have come in non-conference play and Tuesday's three-hit game was his second multi-hit game of the season. Washington is now batting .400 (10-for-25) and has four extra-base hits.
Kjerstad Picks Up Where He Left Off
Taking his first game off in his Razorback career last Saturday after being ejected in Friday's game against Mississippi State, sophomore Heston Kjerstad returned to the lineup on Tuesday against Northwestern State and didn't miss a beat, going 3-for-4 with an RBI and two runs scored. His lone RBI came on a 417-foot home run in the second inning that bounced off the batter's eye in centerfield. It was his 10th home run of the year and 24th of his career.
Teammate Jack Kenley followed that at-bat with a solo home run of his own, marking the first back-to-back home runs hit by two Razorbacks since Evan Lee and Jared Gates did it against No. 2 Florida on March 25, 2018.
Razorback Quotables
"I just thought we did a great job coming out and swinging the bats. From the second inning on we just saw a lot of pitches and fouled some pitches, took a lot of pitches and hit a lot of balls hard. You never know how it's going to go on a Tuesday or Wednesday, but I feel like the team showed up with a little bit of an attitude and kept it rolling. Really top to bottom though the lineup guys we having good at-bats." – Head coach Dave Van Horn on his team's showing on Tuesday
"He plays the game hard and hits the ball all over the field. He's still a developing player. We see him every day and we know what he's good at and what he really needs to work on. We played him on some Tuesday night and he seems to take a walk, get a hit and score some runs. He knows his role, and he's done a great job with it." – Head coach Dave Van Horn on Curtis Washington, Jr.
"Offensively, he was outstanding. Today in batting practicing he really hit the ball hard. I mean, he hit a couple three balls opposite way to left center out of the park. He hit a couple off the batter's eye. He hit a lot of line drives though the middle. Then, he took it to the game. I think he had three hits and used the middle of the field. It was really good to see." – Head coach Dave Van Horn on Heston Kjerstad
"Man, when it left the bat, I was just praying it went over and when it did it was a relief. Just enjoyed the moment running around the bases." – Curtis Washington, Jr. on hitting his first career home run
It felt good. I only threw one inning over the weekend, so I didn't have too many pitches over the weekend, so I felt good going into the game.Today I felt relaxed like everything was kind of there for me. Five innings really didn't seem that long just going out there and throwing a lot of strikes and getting people out." – Kole Ramage on his five-inning outing
Up Next
Arkansas and Northwestern State will be back on the field on Wednesday to finish its two-game series at Baum-Walker Stadium. First pitch between the Razorbacks and Demons is set for 3 p.m. and will be broadcast on SEC Network+.