Razorbacks Ready for NCAA Austin Regional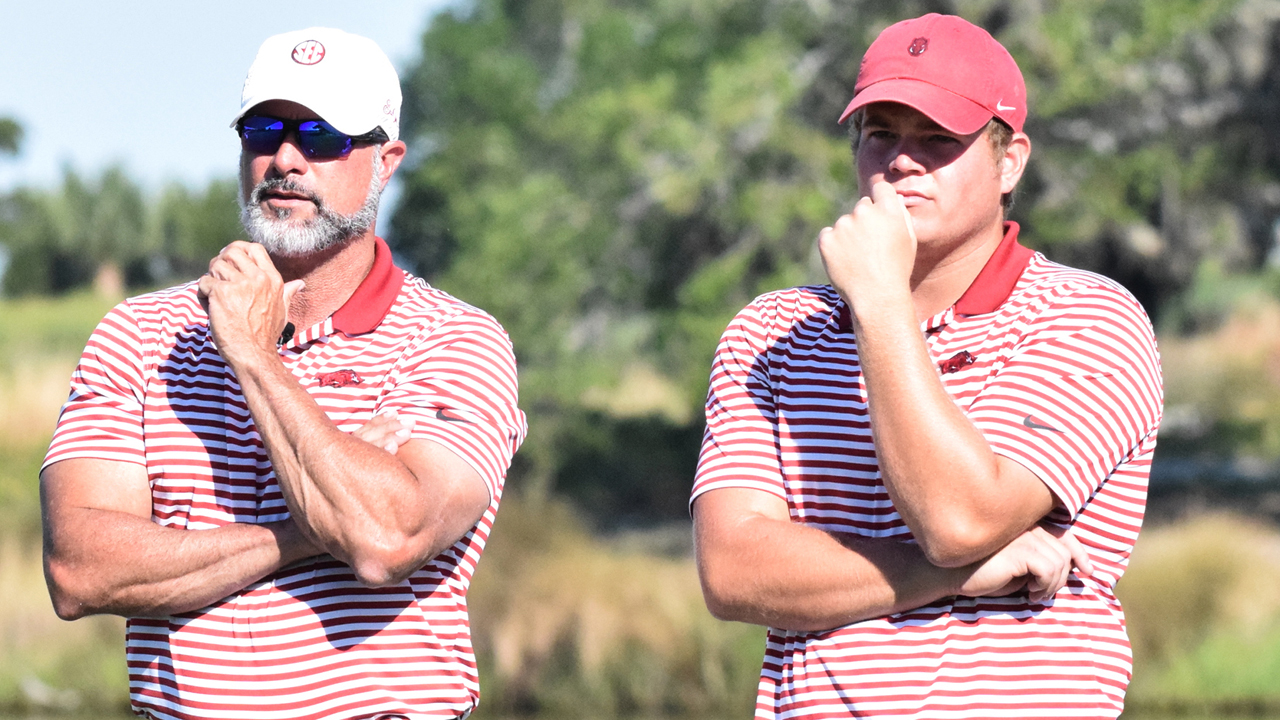 FAYETTEVILLE – The Arkansas men's golf team begins play Monday (May 13) for the three-day NCAA Austin Regional, played at the University of Texas Golf Club. The top five teams and highest individual not on a qualifying team at the Regional will advance to the NCAA Championship which will be hosted by Arkansas at Blessings Golf Club.
This is the 12th consecutive year and 26th time since the NCAA began regional qualifiers in 1989 that Arkansas will be playing in an NCAA Regional.
The SEC Champion Razorbacks are the sixth seed at the Austin Regional. The rest of the Austin Regional includes Texas, USC, Pepperdine, Clemson, TCU, Iowa, Marquette, San Jose State, Saint Mary's, Sam Houston State, UMKC, Prairie View and Army.
Head coach Brad McMakin has led Arkansas to four NCAA Regional runner-up finishes and has advanced to the NCAA in six of the last 11 years. Also, in 2017, Arkansas did not advance as a team, but then freshman Mason Overstreet advanced from a Regional as an individual and finished as the NCAA runner-up.
Arkansas returns four golfers from last year's team, which placed fourth at the Norman Regional to advance to the NCAA Championship. Among the returners are juniors William Buhl, Luis Garza, Tyson Reeder and Overstreet. The newcomer to the group is freshman Julian Perico, who leads the team with a 71.46 scoring average and replaces 2018 graduate Alvaro Ortiz. Overstreet, Garza and Buhl will be playing in their third Regional, Reeder his second and Perico's first.
2019 NCAA Austin Regional
The University of Texas Golf Club and Academy
Austin, Texas
Par 71 • 7,355 Yards
May 13-15
Arkansas' Lineup
Mason Overstreet (Jr.)
Tyson Reeder (Jr.)
Julian Perico (Fr.)
Luis Garza (Jr.)
William Buhl (Jr.)
The Field (Golf Stat National Rank)
Texas (#6)
USC (#7)
Pepperdine (#18)
Clemson (#19)
TCU (#30)
Arkansas (#35)
Iowa (#42)
Marquette (#43)
San Jose State (#54)
Saint Mary's (#55)
Sam Houston State (#89)
UMKC (#96)
Prairie View (#184)
Army West Point (#208)
NCAA Golf Championships
The University of Arkansas and Blessings Golf Club are the proud hosts of the 2019 NCAA Women's and Men's National Championships. Admission and parking for the entire two weeks will be free, courtesy of Tyson Foods and the Tyson Family Foundation.
The women's event begins May 17 and is immediately followed by the men's championship beginning May 24. For more information or to volunteer for the event, log on to www.NCAAGolf19.com.
by Mike Cawood