Razorbacks Rally, Sweep Weekend in Magnolia State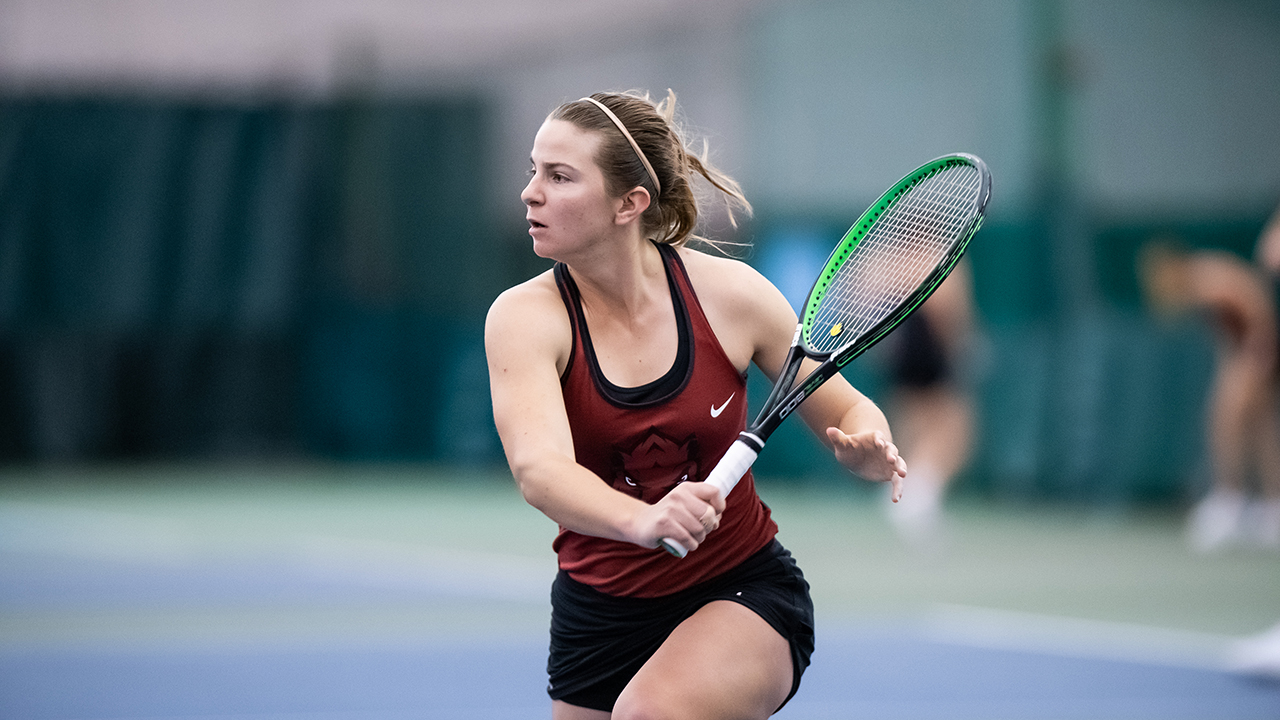 STARKVILLE, Miss.- The Arkansas women's tennis team earned its first weekend sweep in conference play, defeating Mississippi State 4-3 Sunday afternoon.
The Hogs got off to a slow start, dropping the doubles point in the third set. Lauren Alter and Tatum Rice dropped the No. 1 position before Thea Rice and Martina Zerulo evened doubles play with a 6-3 win. The Bulldogs clinched the point at the No. 3 position as Jackie Carr and Laura Rijkers fell 6-4.
Mississippi State quickly went up 3-0 as Rijkers fell 6-2, 6-2 and No. 115 Martina Zerulo fell 6-1, 6-4. No. 79 Tatum Rice earned Arkansas' first point of the match, defeating Magda Adaloglou 6-3, 6-3. The Hogs got within one of the tie at the No. 5 position as Miruna Tudor earned a 6-4, 4-6, 6-4 win.
Alter tied the match in the tiebreaker set, rallying from a first-set deficit for a 3-6, 7-6, 6-3 victory. Carr clinched the match for the Razorbacks with a 5-7, 7-6, 6-2 win at the No. 6 position.
Arkansas will return to the court to close out its home slate next weekend, hosting No. 5 Georgia, No. 24 Tennessee, and Oral Roberts. Senior day activities are set for Sunday afternoon between the Tennessee and Oral Roberts matches.
For more information on Razorback women's tennis, follow @RazorbackWTEN on Twitter.
Arkansas 4, Mississippi 3
Doubles Results – Order of Finish (1,2,3)
1. Magda Adaloglou/Tamara Racine (MS) def. Lauren Alter/Tatum Rice (ARK) 6-2
2. Thea Rice/Martina Zerulo (ARK) def. Emma Antonaki/Anastasia Rentouli (MS) 6-3
3. Janina Braun/Sara Lizariturry (MS) def. Jackie Carr/Laura Rijkers (ARK) 6-4

Singles Results – Order of Finish (3,1,2,5,4,6)
1. #82 Emma Antonaki (MS) def. #115 Martina Zerulo (ARK) 6-1, 6-4
2. #79 Tatum Rice (ARK) def. Magda Adaloglou (MS) 6-3, 6-3
3. Anastasia Rentouli (MS) def. Laura Rijkers (ARK) 6-1, 6-2
4. Lauren Alter (ARK) def. Tamara Racine (MS) 3-6, 7-6 (7-2), 6-3
5. Miruna Tudor (ARK) def. Janina Braun (MS) 6-4, 4-6, 6-2
6. Jackie Carr (ARK) def. Sara Lizariturry (MS) 5-7, 7-6 (7-1), 6-2