Razorbacks Near Top Of Leaderboard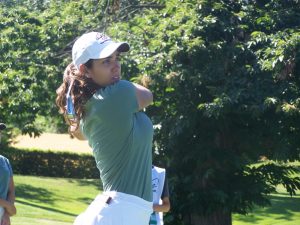 GUADALAJARA, Mexico – University of Arkansas women's golf All-Americans Maria Fassi and Dylan Kim lead a large contingent of Razorbacks after round one action at the Mexican Amateur Championship at Guadalajara Country Club in Jalisco, Mexico.
Fassi, who has won three of the last four titles at the event, and Kim are in the clubhouse with even par rounds of 72. They are tied for second-place with three rounds remaining in the event.
Razorback Grace St-Germain and senior All-American Kaylee Benton are T-18 overall shooting 5-over 77s followed by Arkansas signee Julia Gregg who is T-25th with a 7-over 79. Brooke Matthews is T-27th with an 80 followed by Julia Dean and Cara Gorlei who are both T-34th with 82s.
T2 Maria Fassi 35-37=72 E
T2 Dylan Kim 36-36=72 E
T18 Grace St-Germain 39-38=77 +5
T18 Kaylee Benton 36-41=77 +5
T25 Julia Gregg 39-40=79 +7
T27 Brooke Mathews 37-43=80 +8
T34 Julia Dean 40-42=82 +10
T34 Cara Gorlei 42-40=82 +10
The event is the final amateur contest prior to the Razorbacks returning to collegiate action. Arkansas travels to the Lady Puerto Rico Classic Feb. 10-12 and the season culminates at the NCAA Championship hosted by the Razorbacks at Blessings Golf Club.
More Information
Keep up with all of the latest news and information and get behind the scenes looks into our program on our social media accounts. Follow us on Twitter at @RazorbackWGolf and check out our Facebook page "Razorback Women's Golf." Stats, news and player information can be found at ArkansasRazorbacks.com.
by: Jeri Thorpe