Razorbacks Earn No. 12 Preseason Ranking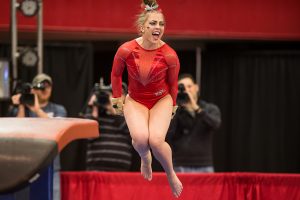 FAYETTEVILLE, Ark. – The Arkansas gymnastics team earned a preseason No. 12 ranking from the Women's Collegiate Gymnastics Associate (WCGA), after its 10th-place finish at the NCAA Championships last spring. The ranking marks the eighth time in program history that the team will start the season inside the top-12, and the first since 2015.
The Razorbacks are one of three teams that will host four preseason top-10 teams, and the only team in the country to host four from the top-six. Arkansas is set to host No. 2 Oklahoma (Jan. 5), No. 3 Florida (March 1), No. 4 LSU (Feb. 22) and No. 6 Alabama (Feb. 8). Season tickets start at $25 and can be purchased by clicking here.
Arkansas tallied 1,341 points in the poll and will face eight teams inside the top-19. For the second-consecutive season, all eight Southeastern Conference programs are ranked inside the top-19 in the poll, including six in the top-12.
Head coach Mark Cook returns 17-of-24 competition routines from last season, including five-of-six on both the beam and the floor. Among the returners are All-American Hailey Garner, SEC Freshman of the Year Sarah Shaffer, All-SEC performers Sophia Carter and Sydney Laird. Sydney McGlone, one of the team's top vaulters who missed most of 2018 to injury, and Jessica Yamzon, who has competed in the All-Around in every meet at Arkansas, will return in 2019. In total, the Razorbacks return nine gymnasts from last year's squad.
Fans can get their first look at the 2019 squad at an open intrasquad this Sunday, Dec. 16 beginning at 5 p.m. The meet is free and open to the public, as fans are encouraged to bring a new and unwrapped toy for children in need in Northwest Arkansas. More information can be found here.
WCGA Preseason Coaches' Poll (2019 Opponents In Bold)
1. UCLA (1,961 points) (20 first place votes)
2. Oklahoma (1,959 points) (25 first place votes)
3. Florida (1,946 points) (9 first place votes)
4. LSU (1,891 points) (2 first place votes)
5. Utah (1,783 points)
6. Alabama (1,672 points)
7. Georgia (1,585 points) (1 first place vote)
8. California (1,526 points)
9. Michigan (1,517 points)
10. Kentucky (1,481 points)
11. Nebraska (1,361 points)
12. Arkansas (1,341 points)
13. Denver (1,286 points)
14. Auburn (1,281 points)
15. Washington (1,253 points)
16. Boise State (1,183 points)
17. Oregon State (1,005 points)
18. Ohio State (989 points)
19. Missouri (912 points)
20. Arizona State (862 points)
21. Stanford (831 points)
22. Illinois (809 points)
23. Minnesota (798 points)
24. BYU (749 points)
25. North Carolina State (704 points)
BY Devan Lawson