Razorbacks Close Exhibition Season with 100-63 Win over Southwest Baptist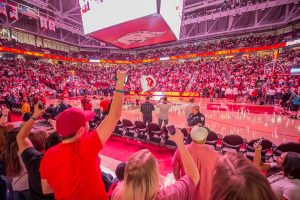 FAYETTEVILLE – Daniel Gafford had a double-double (17 points and 12 rebounds), while Isaiah Joe had a game-high 19 points and Mason Jones added 17 points, to lead Arkansas to a 100-63 victory over Southwest Baptist in the Razorbacks' second and final exhibition game prior to next Friday's season opener versus Texas in the ESPN Armed Forces Classic at Fort Bliss in El Paso, Texas.
Joe was 5-of-9 from the field – all from 3-point range – and 4-of-4 at the line. Gafford added three blocked shots to go with his double-double and Jones was 7-of-8 from the free throw line to assist in his 17-point effort. Keyshawn Embery-Simpson came off the bench to score 11 points, making 4-of-6 from the field (3-of-5 from 3-point range).
Much as they did in the first exhibition, Arkansas turned a close game at halftime into a blow-out early in the second half as the Razorbacks went on an 18-4 run to put the game out of reach.
In a tale of two halves, Arkansas only had nine assists with 10 turnovers in the first half while using its up-tempo brand to dish out 12 second-half assists while committing just five turnovers. Defensively, Arkansas forced 15 turnovers each period and finished with 18 steals – nine each half.
Arkansas will open the 2018-19 season next Friday (Nov. 9) versus Texas in the ESPN Armed Forces Classic. The game will be played on Fort Bliss military base in El Paso, Texas. Tip-off is set for 6 pm (CT)/5 pm (MT).
FIRST HALF: Arkansas 40 – Southwest Baptist 30
–  Starters were #1 Isaiah Joe (G); #2 Adrio Bailey (F), #5 Jalen Harris (G), #10 Daniel Gafford (F) and #13 Mason Jones (G).
– Arkansas led by one, 13-12 with 11:59 left in the first period. Mason Jones sparked a 10-0 run, hitting a layup and 3-pointer – to pit the Razorbacks up 11 at the 7:57 mark.
–  The Bearcats trimmed their deficit to six (36-30), thanks to a 3-pointer by Quinn Nelson, with two minutes to play in the period.
– Desi Sills drained a pair of free throws and Daniel Gafford made a layup with 39 seconds left to put the Razorbacks up 10 at the break.
– Mason Jones led the way with 10, first-half points while Daniel Gafford had seven points and five rebounds.
SECOND HALF: Arkansas out-scored the Bearcats 60-33
– Teams traded baskets the first two trips down the floor to start the second half until Isaiah Joe sank back-to-back 3-pointers two-and-a-half minutes into the half. Those treys ignited an 11-0 run to put the home team up 21 (55-34). All told, Arkansas had an 18-4 run as the clock went under 14 minutes.
– At the 8-minute media timeout, Arkansas pushed its lead to 30, 81-51. In the first 12 minutes of the second half alone, Daniel Gafford put up eight points and seven rebounds while Isaiah Joe had nine points on 3-of-4 shooting beyond the arc.
– Ethan Henderson had a break-away dunk just before the final buzzer to put the Razorbacks in triple digits.
Quick Hits:
– Arkansas is 16-0 in exhibition games under head coach Mike Anderson and Coach Anderson is 34-0 as a head coach in exhibition games.
– Arkansas has scored 88-plus points in 11 of those 16 wins with an average margin of victory of 31.5 points.
– Arkansas won both exhibitions this season by an average margin of 43 points, including a 49-point win versus Tusculum and a 37-point win over Southwest Baptist.
– Arkansas has won 30 consecutive exhibition games dating back to 2004-05 season.
BY Mike Cawood