Razorbacks Advance On Clutch Hit By Kenley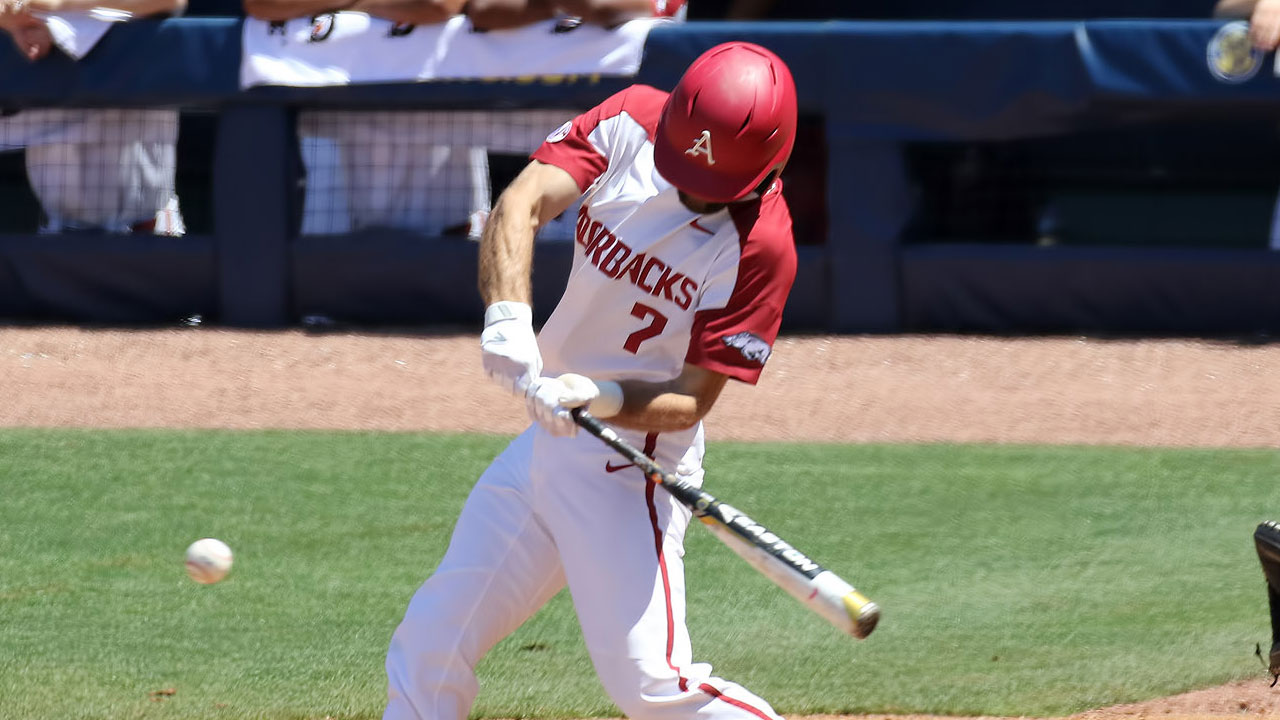 HOOVER, Ala. – A two-out, two-RBI single by Jack Kenley in the sixth inning helped the second-seeded Arkansas Razorbacks pull out a 5-3 victory over seven-seed Ole Miss Wednesday afternoon at the SEC Tournament, advancing to the quarterfinals for the third consecutive year.
Arkansas (41-15) only managed five hits in the game, including one extra-base hit, but managed to scratch across a couple of small ball runs in the first and third inning to allow starter Patrick Wicklander to settle in and throw four scoreless innings in his 13th start of the year.
The Razorbacks didn't have to do much in the sixth before Kenley delivered the go-ahead hit as Ole Miss (34-24) starting pitcher Zack Phillips walked Casey Martin to start the inning followed by a one-out hit by pitch to Dominic Fletcher. Kenley came through two batters later with his two-RBI knock on a single to left-center to make it 4-3. He later drove in the fifth run in the eighth thanks to some heads-up base running by Curtis Washington, Jr. Kenley finished the game with three RBIs.
With the victory, Arkansas moves on to face the three-seed Georgia Bulldogs on Thursday at the Hoover Met with a spot in the semifinal on the line. This will be the first game between the two clubs this year and first meeting since both teams ended the 2018 regular season in 2018. First pitch is scheduled for approximately 4:30 p.m. on the SEC Network.
Nesbit Gets Third Inning Going
Arkansas already led 1-0 by the time the third inning rolled around and got a chance to double that lead after redshirt freshman Jacob Nesbit started the frame with a lead-off double. It was Nesbit's first hit since May 10 in game two against LSU and he was able to score on a Matt Goodheart fielder's choice three batters later. Nesbit now has eight doubles on the year and he was one of only two players combined to hit for extra bases in the game.
Wicklander Sharp Through Four
Taking the mound just two games after his shortest start of the year at Texas A&M, freshman Patrick Wicklander had a nice bounce-back outing on Wednesday against Ole Miss. The San Jose, California native worked 4.1 innings, giving up only two runs on two hits with four strikeouts and a walk. He began to struggle with command in the fifth after getting the first out, but head coach Dave Van Horn gave him the early hook after he threw 76 pitches and went with Kevin Kopps with two men on. Wicklander has thrown four or more innings eight times this year and given up two or less hits four times.
Cronin Finishes Off Strong Day For Bullpen
After Wicklander was relieved in the fifth inning, the combo of Kevin Kopps, Cody Scroggins, Jacob Kostyshock and Matt Cronin kept Ole Miss at bay for the remaining four innings, allowing just three hits with one run and one walk. No Razorback pitcher threw more than 1.2 innings with Kopps taking the brunt of that final half of the game, working out of the fifth and then throwing the sixth on 31 pitches. Cronin shut the door in the eighth and ninth, facing four batters and striking out four for his 11th save of the year, which ranks in a tie for third in the league.
Back…Back Again
For the fourth time in its last five tournament appearances, Arkansas got its' week started off with a victory and will be in the quarterfinals for the sixth time since 2013. Arkansas beat South Carolina, 13-8, last year to get its tournament started a year ago and battled back from a second-round loss to Mississippi State in 2017 to reach the championship. The five runs scored on Wednesday was Arkansas' lowest amount of runs scored in a tournament win since defeating Tennessee, 2-1, in 2015.
Razorback Quotables
"Well, obviously that was a really good win for us. I think both teams probably feel like they left too many runners out there. We were fortunate that Jack came up with the really big hit that gave us the lead back after we let it go. It wasn't exactly a really clean game by either team, but I felt like our bullpen came in and did a really nice job kind of keeping where it was. Then Matt came in and really got us out of a jam there in the top of the eighth and the ninth was outstanding. So good win." – Head coach Dave Van Horn on the win over Ole Miss to advance to the quarterfinals
"He struck out everybody he faced, so it was one of his best outings ever and it was against a pretty good team. He went through 1, 2 and 3 in the order and they can all hit, so I'm just happy he didn't have to throw a lot of pitches and he had a lot of success. I was really excited to see him drop that curveball in there on the left-handed hitter because after that happened, you could just see a different demeanor in the body language of the hitter. Like, 'Wow, I thought I was just going to have to sit on fastballs,' and now he doesn't know what to see. I think Matt tried to drop another breaking ball in there and then he threw the fastball right by him." – Head coach Dave Van Horn on Matt Cronin's save
"To me, this felt a lot like playing Florida last year. We went down to their place, got two taken away from us and then we evened up the series in the tournament. Ole Miss is a good team. They can make a good run and get to Omaha and it could be just like Florida where we end up having more wins against them in a season. To me, that feels like the kind of team we were playing." – Matt Cronin on avenging a series loss to the Rebels earlier this year
"I don't really think that we festered on it very much. We just want to focus on playing our own game. I think today we were getting close. Obviously, we want to keep getting better as the tournament goes on, but we kind of know we're a good team and just executing the way we know how to execute and trust in our pen, like Matt said. We have a lot of confidence in each and every one of the guys in our lineup. We know we got it in us and nothing really to it." – Jack Kenley on the team getting back in the win column
by John Thomas