Razorback Run Ends In NCAA Elite 8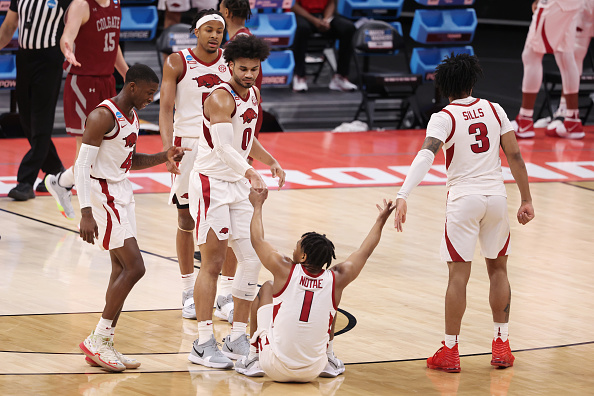 INDIANAPOLIS, Ind. – Arkansas, ranked 10th and seeded third, cut a double-digit deficit to four (64-60) with 7:34 left but could not get any closer in an 81-72 loss to top-seed and third-ranked Baylor in the NCAA Elite 8 Monday night in the South Regional final on Lucas Oil Stadium's Unity Court.
After a slow start to the game put the Razorbacks in an 18-point hole midway through the first half, the Razorbacks made one of the team's characteristic runs to claw back into the game and trail 46-38 at the break. The Hogs' run was spurred by the team shooting 62.5% from the field in the opening half, including going 3-for-4 from 3-point range.
The teams played even for the most part in the second half. However, Baylor made 4-of-8 from 3-point range in the period compared to the Razorbacks going 0-of-7 from long range.
Arkansas closed within four points (62-58) with just over nine minutes remaining in the game on a Moses Moody layup. The Razorbacks would go over eight minutes without a field goal (0-of-12) but stayed in the game thanks to four Jalen Tate free throws. Baylor's MaCio Teague drained a 3-pointer with just under four minutes left to put the Bears up nine. A minute later, a Mark Vital tip-in dunk put the game out of reach.
Davonte Davis and JD Notae led four Razorbacks in double digits with 14 points apiece. Notae's 14 points came despite fouling out early in the second half, he poured in 12 in the first half on 4-of-5 shooting off the bench. Moses Moody added 11 points and Justin Smith scored 10 to go along with six rebounds.
Teague led all scorers with 22 points, including three 3-pointers.
Arkansas ends Head Coach Eric Musselman's second season at Arkansas 25-7 with the program's deepest run in the NCAA Tournament since 1996.