Class of 2020 Arkansas Razorback signee Catrell Wallace has been arrested and charged with two felonies according to the Saline County Sheriff's Office website.
Bryant defensive end and outside linebacker Catrell Wallace has been charged with sexual assault which is a Class B felony and tampering a Class D felony.
Wallace helped to lead the Bryant Hornets to the Class 7A state title this year.
UPDATE: 5:30 PM
The Benton Police Department said in a news release that the alleged assault happened in the early morning hours of New Year's Day. The department said the victim was 12 years old at the time and Wallace, who was 18, had reason to believe the victim was underage. Wallace told witnesses to lie about what happened to conceal the crime, according to the release.
The department said an investigation is ongoing and additional charges are possible.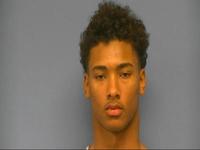 Booking #:

114043

Age:

18

Gender:

M

Race:

B

Address:

BRYANT, AR

Arresting Agency:

Benton Police Department – Benton – AR0630100
Benton Police Department – Benton – AR0630100

Booking Date:

02-24-2020 – 8:46 am
Charges:
SEXUAL ASSAULT 2ND ( B FELONY )
TAMPERING ( D FELONY )

Bond:

$0.00