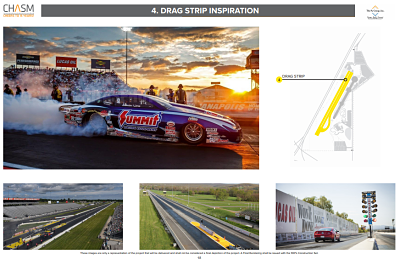 By Ray King
If things go according to plan, a 206-acre site located on U.S. 65 south will be the site of a racetrack, drag strip, indoor-outdoor car showroom, motocross, children's area and more.
On Friday, the first conceptual drawings of the proposed Pine Bluff Entertainment Park were presented to a group of racers and others at the Pine Bluff Convention Center.
The idea for the track has been kicked around in Pine Bluff for a number of years but gained new emphasis when current Pine Bluff City Council Member Ivan Whitfield was chairman of the Traffic and Aviation Committee.
Whitfield stepped down as chairman at the beginning of this year and Council Member Joni Alexander took over, convincing the council to name a committee to consider the idea.
On Friday, Alexander unveiled the committee's ideas and talked to Deltaplex News afterward.
She said the idea will be presented to both the Council and the Jefferson County Quorum Court in the next two weeks, after that, talks will take place with potential financial donors.
"This will put Pine Bluff back on track to be the city it once was," Alexander said.
Asked by a member of the audience if the land for the track had already been acquired, Alexander said no but went on to say that discussions have taken place with the owner, a statement confirmed by County Judge Gerald Robinson.
Robinson told Deltaplex News the entertainment park would be a major source of new revenue for the city and county.