By Ray King
A Pine Bluff man previously convicted of misdemeanor domestic battery in May is facing a felony allegation after he was arrested for domestic battery Sunday.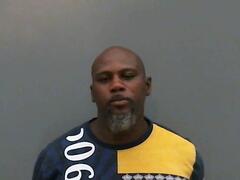 Febrick Hill, 43, was taken into custody after officers were sent to an address on West 26th Avenue and talked to Hill's wife. Officers reported that the woman had two large welts and scratched on her arm, appeared to be in pain, and had difficulty moving her left arm.
Deputy Prosecutor Beth Carson said during a court hearing that Detective Sgt. Michael Roberts was notified by the city attorney's office that Hill had pleaded guilty to misdemeanor domestic battery on May 18.
Roberts reported that during the investigation, Hill's wife changed her story and said she had fallen.
On Wednesday, Pine Bluff District Judge John Kearney set a $5,000 bond for Hill after ruling prosecutors have probable cause to charge him with second offense third-degree domestic battery. The Public Defender's Office was appointed to represent Hill who was ordered to have no contact with the victim until the case is settled.