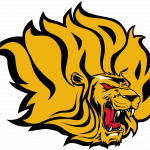 The University of Arkansas At Pine Bluff men's basketball team is now two weeks into fall practice in getting ready for the upcoming 2019-20 season.
"I think practice is going really well," said UAPB head coach George Ivory. "The guys are getting to know one another. It's been really positive in these first few weeks. The guys working really hard and are very attentive to what's going on and what we are trying to accomplish."
The Golden Lions tied for third last year during the SWAC's regular season. With nine conference games being decided by seven points or less last season, Ivory has put a heavy emphasis on half-court execution early in camp.
"The players are doing a good job in learning our systems," Ivory said. "We have some junior college players we're trying to get acclimated quickly, as we are looking for them to play from the start. They're asking a lot of questions to make sure how they should execute plays. If we can get our half-court execution down and eliminate turnovers, we'll be pretty good."
The Golden Lions will open the season November 5 at South Florida.