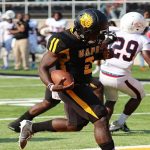 Porter's Run Lifts Lions To Homecoming Win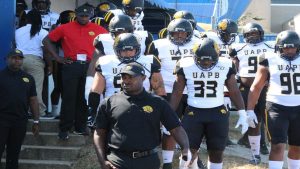 38
2-3 , 0-1
45
4-2 , 1-1
Score By Quarters

| Team | 1st | 2nd | 3rd | 4th | F |
| --- | --- | --- | --- | --- | --- |
| | 3 | 3 | 25 | 7 | 38 |
| | 7 | 17 | 7 | 14 | 45 |
RB Taeyler Porter's 98-yard touchdown run with just over four minutes remaining lifted the Arkansas At Pine Bluff football team to a 45-38 homecoming game win over Lane Saturday at Simmons Bank Field.
Porter's career-long run on one of the longest plays in school history broke a 38-38 tie as UAPB improved to 4-2 for the first time since 2012 and won its homecoming game for the first time in seven years as well.
DB Shawn Steele made two takeaways in the final 3:28. His fumble recovery on the ensuing possession following the Porter touchdown run set the stage for the conclusion following a Golden Lion punt.
Steele's interception with just over one second remaining at the UAPB 15 sealed the win.
Porter rushed 21 times for 182 yards and two touchdowns. QB Shannon Patrick completed 17 of 25 passes for 268 yards and two touchdowns with two interceptions. WR Dejuan Miller caught three passes for 101 yards, and Josh Wilkes (5-73-1) and Harry Ballard III (6-50-1) each had touchdown receptions.
After trailing 3-0, UAPB scored 24 of the game's next 27 points. Patrick's eight-yard scoring run late in the first quarter gave the Golden Lions a 7-3 lead with just over a minute to play in the first quarter.
Following a forced fumble by Solomon Brooks that was recovered by Isaac Peppers at the Lane 19, UAPB scored four plays later. Porter's two-yard run on 4th and 1 extended the lead to 14-3 with just over 11 minutes to play until halftime.
Later in the quarter, Porter and Wilkes connected on a 49-yard touchdown pass to extend to a 21-3 lead with just over six minutes to play. After the teams traded field goals, UAPB led 24-6 at halftime.
Lane (2-3) rallied in the second half, outscoring UAPB 25-7 in the third quarter to tie the score at 31-all after three quarters.
In the fourth quarter, Skyler Perry's nine-yard scoring run with just under 13 minutes remaining gave UAPB a 38-31 lead. Lane tied the score on the ensuing possession, leading to the late-game finish.
UAPB returns to action Saturday hosting Mississippi Valley at 1 p.m. at Simmons Bank Field.