By Ray King
The shooting death of Pine Bluff Police Officer Kevin Collins Monday was a major topic during the Pine Bluff City Council's meeting Monday at the Convention Center.
Collins and two other detectives, Lt. Ralph Issac and Detective Kelsey Collins were at the Econo Lodge at 210 N. Blake St., when, in the words of Police Chief Kelvin Sergeant "took gunfire." Collins was pronounced dead at Jefferson Regional hospital. Sergeant said Issac is in stable condition and Kelsey Collins was not hospitalized.]
After the meeting, Council member and retired Pine Bluff Police Chief Ivan Whitfield talked about the incident.
Whitfield was on the force when Officer John Fallis was shot to death in 1985. Fallis was the last Pine Bluff officer to be killed in the line of duty.
Sergeant fought back tears as he talked about Collins and asked for prayers from the community.
"We will get through this and hopefully we will be better," Sergeant said.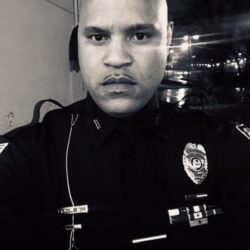 Mayor Shirley Washington called Collins, who had been on the force for five years "a hero" and described the police department as "a family. What affects one affects them all."
She said the tragedy serves as a reminder of the dangers and sacrifices police officers make on behalf of the City.
Arkansas State Police are handling the investigation and according to a press release Monday, have suspects in custody.
In other business Monday, a resolution authorizing Washington to enter into an agreement to purchase solar energy from Entergy Arkansas was approved. Washington said solar energy which is being produced at a facility in Stuttgart and another which is being built in Lake Village will save the city about $5,000 a month on its electric bill.
Also Monday, resolutions authorizing Washington to enter into agreements with RJR Enterprises for playground installation at Dr. Martin Luther King Jr., park and at the Merrill Community were approved.
The Mayor said the equipment at MLK Park will be an upgrade and there is currently no playground at the Merrill Center. RJR Enterprises was the only company that submitted bids for the project.