By Ray King
A Pine Bluff woman was arrested early Sunday morning after she allegedly stabbed her former boyfriend and cut his new girlfriend.
Amari Lashay Boone, 21, was taken into custody after police responded to a reported stabbing at 2910 S. Chestnut St., at 2:15 a.m.
During a court hearing Monday, Deputy Prosecutor Carol Billings said the alleged victim told police he was at his residence with his new girlfriend when he heard a knock at the door. He said when he opened the door, Boone rushed in, pulled a knife, and began to fight with his new girlfriend, who was cut on the finger.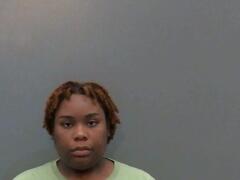 The alleged victim said he tried to break up the fight and Boone cut him in the face, resulting in the victim being taken to Jefferson Regional where he received 14 stitches to the wound above one of his eyes.
Billings said Boone and the former victim had previously dated and when Boone was questioned, she allegedly said she accidently cut the other woman but admitted stabbing the man in the face.
Pine Bluff District Judge John Kearney on Monday set a $10,000 bond for Boone after ruling prosecutors have probable cause to charge her with second-degree domestic battery.
Her bond was set at $10,000 and she was ordered to have no contact with the alleged victims until the case is settled. The Public Defender's Office was appointed to represent Boone.
In addition to the felony allegation, Boone was also charged with misdemeanor third-degree domestic battery in connection with the injuries to the other woman.