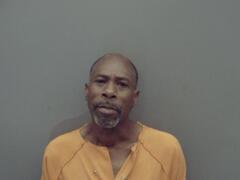 By Ray King
A $100,000 bond was set Wednesday for a Pine Bluff man who allegedly stabbed a woman at a house on the east side of the city.
Jefferson County District Judge Kim Bridgforth set the bond after ruling prosecutors have probable cause to charge Nathaniel Banks, 59, with first-degree battery.
Detective Nathalie McCool reported that when police arrived at the house, they found the victim bleeding from the head and shoulders and going in and out of consciousness because of the blood loss. She was taken to Jefferson Regional Hospital where McCool talked to her and Deputy Prosecutor Caleb Conrad told the court what the victim said.
When Banks was questioned, he said he had stabbed the victim in self-defense. He said she came at him with the knife and he took it away from her.
Conrad said Banks was convicted of multiple robberies and aggravated robberies in 1986 and sentenced to 40 years in prison. He was ordered to have no contact with the victim until the case is settled.