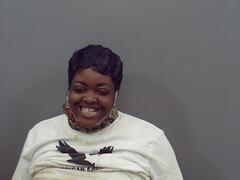 By Ray King
A $25,000 bond was set Tuesday for a Pine Bluff woman accused of driving a stolen vehicle to the Maximum Security Unit at the Tucker Prison Monday morning.
Jefferson County District Judge Kim Bridgforth set the bond after ruling prosecutors have probable cause to charge Madie Fudge, 43, with theft of property.
Reading from a probable cause affidavit from State Police Special Agent Billy McCradic, Deputy Prosecutor Caleb Conrad said Fudge was driving a black Ford Escape when she arrived at the Maximum Security Unit at 7 a.m. She told prison officials she was there to pick up her boyfriend, Anthony Fitzgerald, who is an inmate. When the official checked, he learned that Fitzgerald was not due to be released until at least 2024 and told Fudge to leave.
Conrad said Fudge returned later that morning driving a different vehicle, a silver Infiniti that was registered to a deputy warden that lives on corrections department property at the prison. He told the court what happened next.
When Fudge was questioned, she said she went to Tucker to pick up her husband who she was told was going to be released. She then went to the deputy warden's house, which she said she thought was her house., and got the Infinity which she said she thought belonged to her daughter.
The Public Defender's Office was appointed to represent Fudge and she was told to come back to court Sept. 26.