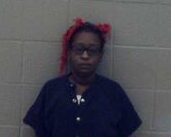 By Ray King
A Pine Bluff woman was arrested Wednesday after she allegedly robbed a business at knifepoint.
Kamiarah Shelton, 35 was taken into custody after police found her a short distance away from the convenience store at 3100 S. Hazel St.
According to a probable cause affidavit from Detective Tamina Smith, police were sent to the store at 10:01 a.m. in response to a reported aggravated robbery.
Deputy Prosecutor Mircha King said the victim told police a woman later identified  Shelton pulled a knife and demanded $20. The victim said he refused and Shelton grabbed a bag of chips and a soda before leaving.
Pine Bluff District Judge John Kearney set a $2,500 bond for Shelton and told her to have no contact with the victim. Shelton had to be removed when she refused to stop talking.