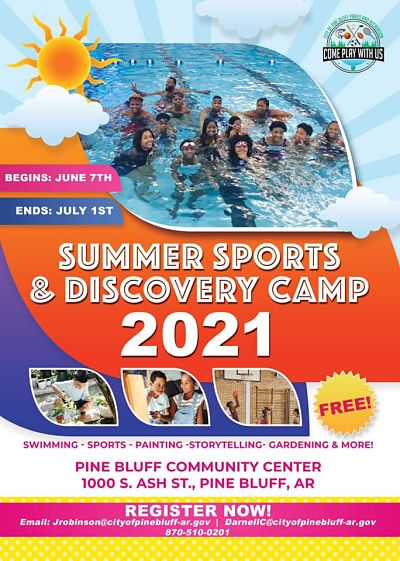 By Deseray McKinzy
Pine Bluff Parks and Recreations is hosting a free Summer Sports & Discovery Camp this summer for ages 6-14 beginning June 7th until July 11th from 8:30 a.m. to 1 p.m. featuring swimming, sports, painting, storytelling, gardening, science, arts, and more.
The camp will take place a the Pine Bluff Community Center at 1000 S. Ash St. Registration is open now with a total of 120 slots available for students that will be available until they are all filled.
The community center is also searching for volunteers to work with students in their desired area of choice. Volunteers will be prompted to fill out an application and go through the background process before being chosen to participate.
The camp day will begin with various programs including STEM, Cooking, music, along with sports and fun creative activities. The community center director, Jacqueline Robinson said that children will also be exposed to yoga, boxing, exercise, and dance to help them express themselves while learning new things.
Robinson encouraged parents to sign up as soon as possible as slots are filling up quickly. For more information about the camp or to register parents can email at [email protected], [email protected], or call 870-510-0201.