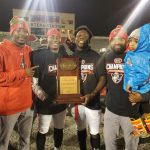 The Football Championship Subdivision (FCS) Playoffs are in high gear and one Pine Bluff native is thankful for the opportunity to compete on the national stage.
Keith Scott in his first season as the nickels coach at Austin Peay State University (APSU) located in Clarksville,Tn helped the Governors to their first Ohio Valley Conference Championship (OVC).
The conference title marks only the 2nd in school history and the first since 1977. Scott, after spending the previous three seasons at OVC foe Eastern Illinois, called the win for the conference title against his former team bitter sweet.
"I recruited many of the existing players (several from Arkansas) at Eastern Illinois that we competed against for the conference championship," said Scott. "Those guys will always have a special place in my heart as the relationships are ongoing. I was proud to see many of the young men still in position to earn their degree. However, this University and me personally have waited a long time to claim a conference title and I could not be more thankful for the opportunity before us."
The Conference title also solidified the Governors first FCS playoff birth in school history, and they defeated Furman 42 to 6, advancing APSU to the second round.
During Coach Scott's ongoing tenure at APSU, he has mentored the 2019 finalist for the Buck Buchanan award and coached a 1st team all Ohio Valley Conference Defensive Back who lead the OVC in interceptions with (7), 2 for touchdowns, and 1 fumble recovery for a touchdown. The interception for touchdown total broke an APSU school record and tied the OVC record.
Coach Scott is a 2000 class graduate from Watson Chapel high school where he was a standout running back and defensive back. He is a 2005 graduate from University of Arkansas at Pine Bluff, and three-year starter for the golden lions as a defensive back.
Scott began his college coaching career serving as the graduate assistant defensive ends coach at Prairie View A&M University from 2005-06.
Upon completing his master's degree, he coached from 2007-09 at Mississippi Valley State and as the defensive coordinator during the 2009 season. In 2010 ,he was the defensive backs coach at the University of Central Arkansas as the Bears ranked first in the Southland Conference in passing defense, first in turnovers and second in interceptions. From 2011-2015, he coached defensive backs and held the position of defensive coordinator at University of Arkansas at Monticello.
According to Scott "my success is attributed to my late parents, siblings, educational and coaching experiences. My wife Stacy and son Kelton play a huge role in what I am able to accomplish daily. Most importantly, Jesus Christ has really shown favor on my life."
APSU will travel to Sacramento State for the second round of the FCS playoffs.
NOTE: The above information was sent to DeltaplexNews.com via a press release.