By Ray King
A Pine Bluff man was arrested Friday after he allegedly sexually assaulted a female customer inside a convenience store.
Tequante Guy, 21, was taken into custody after officers were sent to the Circle N at 2901 W. 28th Ave., at 4:53 p.m. in response to a reported disturbance.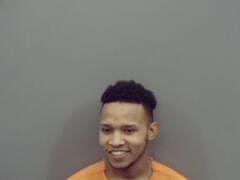 Reading from a probable cause affidavit from Detective Corey Wilfong, Deputy Prosecutor Jay Girard said the female victim told officers that she was using the ATM inside the store when a male later identified as Guy grabbed her buttocks and vagina, and put an arm around her throat.
Gerard said Wilfong took a statement from the victim who described the incident.
Guy was sitting in his vehicle when police arrived and was uncooperative. When he got out and went inside the store he was arrested and was not interviewed because he was intoxicated.
Jefferson County District Judge Kim Bridgforth set a $50,000 bond for Guy Monday after ruling prosecutors have probable cause to charge him with second-degree sexual assault. He was ordered to have no contact with the victim until the case is settled.3