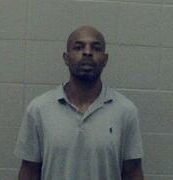 By Ray King
A Pine Bluff man accused in the shooting death of another man on July 26 will be held without bond while prosecutors prepare formal charges against him.
Following a court hearing Friday, Jefferson County District Judge Kim Bridgforth ruled prosecutors have probable cause to charge Kevin McKinney, 42, with capital murder, arson, abuse of a corpse, and being a felon in possession of a firearm.
McKinney surrendered to police after he and a second suspect, James Dixson, also 42 were identified by a witness who saw them leave a house that was on fire at 2307 W. 11th Ave.
When firefighters extinguished the fire, they found the body of a man later identified as Nickie Woodfolk, and the state medical examiner ruled that Woodfolk died as the result of gunshot wounds.
Reading from a probable cause affidavit from Detective Corey Wilfong, Deputy Prosecutor Beth Carson said police located a witness and took a recorded statement.
Carson then continued to report what the witness said.
Dixson is still at large and anyone with information is asked to contact the Detective Division at 730-2-90 or the dispatch center at 541-5300.