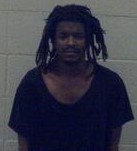 By Ray King
A reported armed disturbance on May 27 resulted in the arrest of a Pine Bluff man accused of firing shots from a vehicle at another vehicle.
Dante Brazelle, 26, was taken into custody after police were sent to 1702 W. 26th Ave.
During a court hearing Monday, Deputy Prosecutor Jill Reed explained the allegation against Brazelle.
Jefferson County District Judge Kim Bridgforth set a $15,000 bond for Brazelle after ruling prosecutors have probable cause to charge him with aggravated assault and unlawful discharge of a firearm from a vehicle. He was ordered to have no contact with the victim until the case is settled and told to come back to court July 11.