By Ray King
A Pine Bluff man was arrested Thursday after he allegedly drove a car that had been reported stolen the previous day to a gas station on East Harding Avenue where the vehicle was recovered.
Donnie Armstrong, 55, who has also used the name Andy Ray Davis was taken into custody by police after they were sent to the gas station where Armstrong had reportedly locked himself in a bathroom and refused to come out.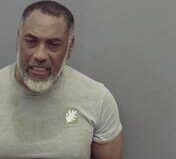 Deputy Prosecutor Caleb Conrad said during a court hearing that a clerk at the store unlocked the door of the bathroom for police.
Detective Mike Merritt reported that the owner of the vehicle contacted police to report that her car, a 2010 Hyundai, had been taken from her residence in the 2400 block of West 24th Avenue. The victim said the ignition was broken so no key was required, and said the vehicle had a cracked windshield.
Conrad said a witness, who knew the victim and her car, saw Armstrong get out of the vehicle at the gas station and go inside it, then called police.
Pine Bluff District Judge John Kearney set a $2,500 bond for Armstrong after ruling prosecutors have probable cause to charge him with theft of property. Armstrong said he would hire his own attorney.