By Ray King
An Arkansas State Trooper arrested a Pine Bluff man previously convicted of several felonies after a gun was found in the vehicle the man was driving.
Kendrick Brown, 34, was taken into custody by Trooper Daryl Hinton after Hinton saw Brown driving a green Honda Accord on Dollarway Road and saw that Brown was not wearing a seat belt.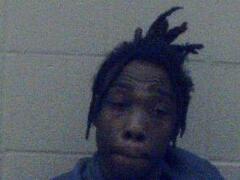 Deputy Prosecutor Beth Carson said the license plate on the Honda returned to a Buick and the trooper conducted a traffic stop.
Carson said Brown was questi0oed but did not volunteer any information.
Jefferson County District Judge Kim Bridgforth set a $15,000 bond for Brown Monday after ruling prosecutors have probable cause to charge him with being a felon in possession of a firearm. He pleaded guilty to misdemeanor driving on a suspended license and no seat belt.
He was told to come back to court on Jan. 4.