By Ray King
A Pine Bluff man with a substantial criminal history was arrested Friday after allegedly hitting his former girlfriend, knocking her to the ground, and taking her child.
Eugene Farris, 43, was taken into custody after police negotiators talked him out of a residence on Briarwood Drive, Deputy Prosecutor Beth Carson said during a court hearing Monday.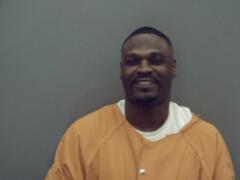 Reading from a probable cause affidavit from Detective Corey Wilfong, Carson said police were sent to a residence on 6Th Avenue where the victim said she had taken the child to see his grandmother when Farris pulled up and told her to leave. She said the two were arguing because "he doesn't do anything for the baby" and said he hit her, knocking her to the ground, and took the baby. He then left in a vehicle.
Carson said police reported the victim had a scratch on the left side of her face and she was muddy. She said Farris had also hit the baby.
Police contacted Farris by phone and Carson reported what he told them.
The homeowner and two children came out and told police that Farris was inside the residence with a small child.
The child was returned to his mother and had a scratch on his forehead. Carson said Farris also took the victim's wallet and cell phone.
On Monday, Jefferson County District Judge Kim Bridgforth set a $75,000 bond for Farris after ruling prosecutors have probable cause to charge him with interference with custody and theft of property. He was ordered to have no contact with the victim until the case is settled. Farris said he would hire his own attorney.