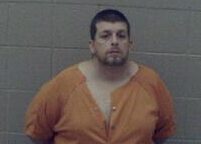 By Ray King
A Pine Bluff man was arrested Wednesday after he allegedly pointed a gun at another person and fired shots.
Joseph Wilkerson, 43, was ordered to have no contact with the alleged victim until the case is settled.
During a court hearing Friday, Deputy Prosecutor MIrcha King explained the circumstances that led to Wilkerson's arrest.
King said when Wilkerson was questioned, he admitted firing a shot in the air but denied firing shots at the victim.
Pine Bluff District Judge John Kearney set a $5,000 bond for Wilkerson after ruling prosecutors have probable cause to charge him with aggravated assault on a family or household member. Wilkerson said he would hire his own attorney.