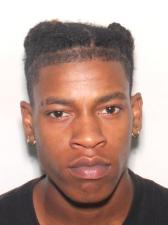 Pine Bluff Police have identified a suspect in the first homicide of 2023.
According to Lt. David DeFoor, police are seeking David Burnett, 20, who is being sought for capital murder and aggravated robbery in the death of Demarcuz Scott on Jan. 4 at Regency Arms Apartments at 2401 W. 31st Ave.
Burnett is described as a black male, 6-feet, 3 inches tall, weighing 160 pounds.
Anyone with information is asked to call the Detective Office tip line at 730-2106 or the dispatch center at 541-5300.