By Ray King
A Pine Bluff man was arrested Tuesday after he allegedly pushed his live-in girlfriend down then hit her in the stomach with a broom handle.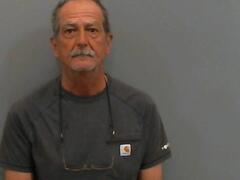 When he was questioned, Wayne Gatley, 60, admitted pushing the woman but denied hitting her.
During a court hearing Friday, Deputy Prosecutor Holden Raines said the victim had to have surgery due to a blood clot forming as a result of the blow to the stomach.
Reading from a probable cause affidavit from Detective Vernita Burns, Raines said the victim told police she and Gatley had gotten into a physical altercation on July 24 and he shoved her, and she fell backwards over a dog kennel. She said she got up and walked away because she was angry with Gatley and when she returned, she said he hit her in the stomach. She said she was in pain and called an ambulance which took her to Jefferson Regional Hospital.
When Gatley was arrested Wednesday, he admitted pushing the woman hard and said she may have hit her stomach on the handle of a bicycle.
Jefferson County District Judge Kim Bridgforth set a $15,000 bond for Gatley after ruling prosecutors have probable cause to charge him with second-degree domestic battery. Gatley said he would hire his own attorney and was ordered to have no contact with the alleged victim until the case is settled.