Paint Ball At Bud Walton Arena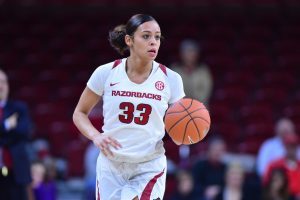 FAYETTEVILLE, Ark. – A 13-0 run in the final three minutes of the opening frame fueled by a 10-point quarter from Chelsea Dungee set the tone for a 65-42 University of Arkansas women's basketball victory over Tennessee Tech in Bud Walton Arena Tuesday night.
Kiara Williams and Macy Weaver combined for nine of Arkansas' school-record 13 blocked shots erasing the previous mark of 12 set in 1982. The Razorbacks were good inside, outscoring TTU 30-22 in the paint, while grabbing 42 rebounds and scoring 13 second chance points.
Dungee finished with a career-best 28 points going 12-for-18 from the floor with four 3-point field goals. She had five rebounds, two assists and two steals. A'Tyanna Gaulden was in double figures for the second time as a Razorback with 12 points as eight different players scored.
Williams paced the team with nine rebounds and had six points to go with her five blocked shots. Bailey Zimmerman added seven points and five rebounds in the win.
Brrrrr…
Both teams were cold to start the game. Arkansas (6-3) opened 0-for-3 getting its first basket on a 3-pointer from the left side from Jailyn Mason. Mason finished with four points, three assists and three steals. TTU (5-3) went 0-for-7 and hit their first basket at the 4:55 mark of the game. Arkansas led 5-4 at the media timeout with 3:36 to go in the first quarter.
Arkansas finished the quarter with a 13-2 run to lead 18-4 after the first 10 minutes. The Razorbacks held the Golden Eagles from the 3:32 mark of the first quarter to 7:31 in the second frame without a basket.
The Razorbacks had a 35-20 lead at the half with Dungee already in double figures. Arkansas had eight first-half blocks, just four rejections shy of the program record for a game at that point.
A strong start to the third period propelled the Razorbacks to a 23-7 advantage in the frame. Arkansas would lead by as many as 31 before finishing with the 23-point victory. All 13 players logged minutes in the game for Arkansas.
Notes
•Arkansas starters: Alexis Tolefree, Malica Monk, Kiara Williams, Jailyn Mason, Chelsea Dungee
•Kiara Williams tied her single game high of four blocks – in the first quarter. She finished with a career-best five blocked shots.
•Chelsea Dungee scored 10 points in the first quarter. It is her second game of the year with double figures in a single quarter.
•TTU's four points is the lowest opponent point total in the first quarter in program history.
•Chelsea Dungee scored in double figures for the ninth consecutive game and had 20+ points for the fifth time this year including four in a row.
•Arkansas posted season-bests for steals and blocks.
BY Jeri Thorpe